Rail Budget 2013-14 Live: Rail minister Pawan Bansal could announce his thrust on electrification as part of his debut Rail Budget 2013 speech on Tuesday, sources said.
Hit hard by the Centres decision to deregulate bulk diesel prices that has set its annual fuel bill soaring by 15%, the Indian Railways has turned its attention on the neglected track electrification programme, increasing the target by around 50% for the next fiscal.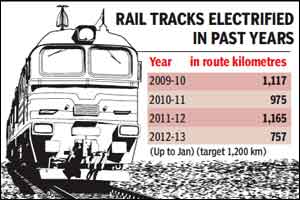 The national transporter would be doubling its spend on electrification to R2,000 crore next year.
This would be the railways biggest electrification drive as the target is expected to be around 1,800 route kilometre.
For 2012-13, the electrification target was 1,200 route kilometre, of which only 757 km has been achieved till January.
A major portion of the increased spending for the electrification projects is expected to be done through the Indian Railway Finance Corporation (IRFC), which till date has stayed away from financing railway projects, due to cost and time overruns.
Bansal is expected to announce three projects to electrify the routes connecting Delhi with Ahmedabad and Jaipur. The three projects covering 1087-km of rail track will cost R1,121 crore.
To get the funds for the electrification projects, the cash-strapped railways, which is planning to raise Rs.18,000 crore of its annual plan outlay for the next financial year through market borrowings, is expected to ask IRFC to finance the project.
IRFC could be asked to finance electrification projects of railways. Such projects have good traction and returns on investments are faster, railway board chairman Vinay Mittal told FE earlier.
At present, 31% of the 64,000-kilometre railways network is electrified.
Putting electrification target on fast track remains imminent for the railways as in 2012-13, the overall bulk diesel cost went up by over R15 a litre, an increase of over 33%, said a senior rail board official.
At present, the total fuel bill of railways is around R20,000 crore (R12,500 crore for diesel and R7,500 crore for electricity). Thanks to the increase in diesel prices, the fuel bill will increase by at least 15%.
All new rail track projects are expected to be electrified. The ambitious 3,300-km dedicated freight corridor project being constructed at the cost of Rs.90,000 crore is also going to be 100% electrified.
Rail Budget 2013 Live: Indian Railways Minister Pawan Kumar Bansal in Parliament. Here are the Railways Budget speech highlights:
* No passenger fare hike for the moment.
* Dynamic fuel adjustment component to be introduced on freight rates from April one, that will result in less than five per cent increase in rates.
* An independent Rail Tariff Authority has been formalised.
* Deregulation of diesel prices and hike in electricity tariff to result in a burden of Rs 5,100 crore in 2013-14.
* 500-km new lines to be completed in 2013-14.
* Diesel price hike added Rs 3,300 crore to fuel bill of Railways.
* 5 per cent average increase in freight.
* Freight earning to grow by 9 per cent to Rs 93,554 crore.
* Freight target fixed at 1,047 MT for 2013-14, 40 MT over the current year.
* Railway hopes to end 2013-14 with a balance of Rs 12,506 crore.
* Operating ratio expected to improve to 87.8 per cent in 2013-14 from 88.8 per cent in the current fiscal.
* Railway revenues to show a balance of Rs 12,506 crore in 2013-14.
* Planned investment of Rs 63,363 crore for 2013-14, including Rs 600 crore from PPP route.
* Indian Railway Institute for Financial Management to be set up at Secunderabad to train rail officers on a regular basis.
* Rs 3,000 crore loan from Finance Ministry re-paid with interest by Railways this financial year.
* Railways to set up a Debt Service Fund.
* Railways' freight loading traffic scaled down by 100 million tonnes from 1025 million tonnes because of economic slowdown.
* 5.2 per cent growth in passenger traffic expected in 2013-14.
* Allocation of Rs 1,000 crore each made for railway land development authority and railway station development authority.
* Rs 9000 crore investments expected including Rs 3,800 crore in port connectivity and Rs 800 crore in iron ore mines connectivity.
* Railway Energy Management Company to be set up to harness solar and wind energy.
* 47,000 vacancies for weaker sections and physically challenged to be filled up soon.
* It is proposed to air-condition locomotives.
* Free wi-fi facility to be provided in select trains.
* Special A/C coaches 'Anubhuti', to be introduced in select Shatabdi and Rajdhani trains to give excellent ambience with commensurate fare.
* Railways will use Aadhar data base for bookings and validation of passengers.
* Internet booking to be provided from 0030 hours to 2330 hours.
* Internet booking to be strengthened with next-generation e-ticketing system to eliminate delays.
* Common rail-bus ticket to be introduced for Katra-Vaishnodevi pilgrims.
* New train Azadi Express to places linked with the freedom struggle to be introduced, fares to be concessional.
* Losses to Railways on account of passenger traffic likely to mount to Rs 24,600 crore in 2012-13 from Rs 22,500 crore in 2011-12.
* 12th Plan railway size to be Rs 5.19 lakh crore, with gross budgetary support of Rs 1.94 lakh crore.
* Rs one lakh crore to be raised from public-private partnership, Rs 1.05 lakh crore through internal resources in the 12th Plan, says Railway Minister P K Bansal.
* Bansal took a dig at mamata Banerjee and said, my intention is not to create a 'hungamma'. I intend to focus on the health of the Railways.
* Elimination of 10,700 unmanned level crossings targeted during the Plan; no more new such crossings to be created.
* Corporate Safety Plan to be prepared for ten-year period (2014-24).
* Identification of 104 stations for upgradation in places with more than one million population and of religious significance
* Railways to set up six more Rail Neer bottling plants
* Railways set to enter 1 billion ton freight club of China, Russia and US.
Railway Minister Pawan Kumar Bansal, who recently revised passenger fares across the board after a decade, has sought Rs 38,000 crore gross budgetary outlay for Railways in 2013-14 as against this year's Rs 24,000 crore.
The Railways' deplorable financial situation is evident from the fact it spends 78% of its revenue receipts for paying wages, pension and fuel bills.
One won't be surprised if the Revised Estimate for this year's opening fund balance is close to nil.
Expert panel led by Sam Pitroda estimates the cost of modernising railways at $120 billion. Rail Ministers before Pawan Bansal have stuck to populist Budgets.
People feel that may not work anymore.Railways need to raise resources for its modernisation and expansion
Railways need clear policy framework for promoting private sector investment and FDI
The Railways' surplus from internal resources has shrunk since 2007-08