RBI Governor Raghuram Rajan during the announcement of RBI monetary policy at the RBI Headquarters in Mumbai. (PTI)
RBI Governor Raghuram Rajan did not surprise the markets on Tuesday and kept the rates unchanged for the first time since taking over in September 2013. I hope the only thing that was surprising about monetary policy today was the lack of surprise. I am glad financial markets and analysts have started understanding what we are doing, Rajan said at a media interaction. Excerpts:
On window-dressing by banks: Liquidity conditions have tightened in March, partly on account of year-end window dressing by banks, though an extraordinary infusion of liquidity by the RBI has mitigated the tightness. We will propose measures to reduce such practices. The year-end should not be a time for any spectacular changes in the banking system and must pass smoothly. I dont think the RBI should be in the business of bailing out the banking system with infusion of liquidity when the banking system is creating its own problems.
Also check graphs on RBI Monetary Policy Review, Current Account Deficit, GDP growth, Sensex, and more
On pre-payment of term loans: Banks should consider allowing borrowers the possibility of pre-paying floating rate term loans without penalty. The RBI proposes to frame comprehensive consumer protection regulations based on domestic experience and global best practices.
On impact on election: The issue is that the markets right now are anticipating a stable government and rapid policy actions. To the extent markets are disappointed, it will reflect on stock markets, perhaps on bond markets, perhaps on exchange markets. We have to be prepared for some turmoil.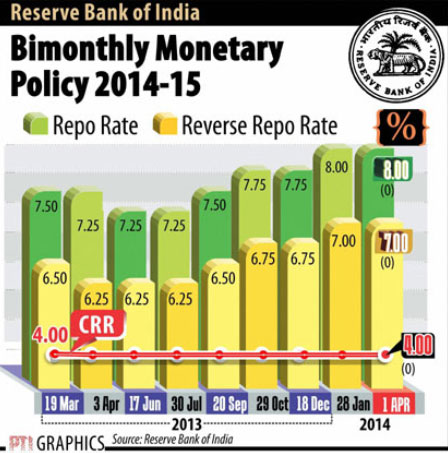 Even if the government is not necessarily a stable one, provided any new structure shows the appropriate concerns about the economy, about the fiscal and so on, I would suspect that after an initial bout of turmoil, there might be a re-assessment which will be more positive.
Ban on foreign investment in G-Secs below 1 year: As a further step towards encouraging longer-term flows, investments by foreign investors in G-Secs will henceforth be permitted only in dated securities of maturity of one year and above, and existing investment in Treasury Bills will be allowed to taper off on maturity/sale.
On new hedging steps for foreign investors and rupee: This is not necessarily to combat the NDF market but primarily to improve the (hedging) environment in the country. The RBI will continue to work to ease entry while reducing risk to foreign investors from the volatility of flows. I dont think we are trying to establish any level (of rupee) in the market.