Although price is an important influencer in a purchase decision, it does not figure in the top three criteria in many countries when it comes to faithfulness to a brand, according to a report by global research firm Nielsen.
Even though Indians give first preference to quality and second to price, countries like China, France and Germany dont even rate price among the top three factors.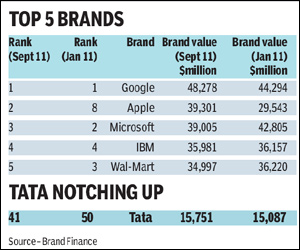 The report says that Indian women give first preference to quality and second to price even though it is an important influencer for a purchase decision across most categories which are food, beverages, automotive, pharmaceuticals, apparel and home electronics.
On the other hand, in countries like China, France and Germany, price doesnt even figure among the top three factors.
The number one driver of brand loyalty in 20 out of 20 one countries is quality whereas in the UK, women placed trust ahead of quality.
The report said, Price and value cant be ignored as features that attract an initial purchase decision, but the long-term play has to be about quality.
At the time of choosing which stores to shop in or what brands to purchase, price, good value, quality products and convenience are the most influential drivers for women.
However, when it comes to winning their loyalty, it is quality and not price that keeps them coming back for more.
When it comes to getting information about new products, television continues to be the most pervasive form of media and is the number one source that women rely on across continents, says the report.
Among all emerging markets and most of the developed markets analysed, television outranked 14 other sources of information. Word-of-mouth was listed as either the second or third choice in nine out of 10 emerging markets and in eight of the 11 developed markets reviewed.
Newspapers and magazines were another popular source of information for women in emerging markets, while the use of internet was more pervasive in developed markets.
According to the report, 54% women buy new products on the basis of television commercials, 11% word of mouth and 10% from information in magazine.
As far as developed countries are concerned, other media vehicles are closing the gap on TV where 24% prefer television, 15% get through internet searches and 14% through word of mouth.