After Haryana and Himachal Pradesh, Punjab has decided to turn to the gender budgeting mantra in its next annual Budget.
The SAD-BJP combine, which presented its fourth Budget this year, will talk about women empowerment through gender budgeting in its Budget for 2011-2012.
Punjab finance minister Manpreet Singh Badal said, I have planned to take the annual Budget to Rs 11,000 crore for 2011-12. I am also planning to introduce gender budgeting, aiming at empowering women. Haryana introduced this concept in 2008-09. I admit that we are lagging behind, though special emphasis has been given to the social sector in our budgets during this term, with special attention towards strengthening women. An amount of Rs 1,010 crore has been allocated to the social sector in the 2010-2011 Budget, he pointed out.
Badal said expenditure on the social sector stood at 25% of the total Budget during the Akali-BJP governments previous regime, from 1997 to 2002.
This came down to 18% of the total state budget during the Congress regime from 2002 to 2007. After the Akali-BJP government was again elected in February 2007, we brought up the expenditure on social sector again to 25% of the total Budget, he stated.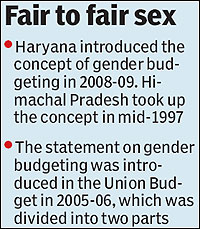 Gender budgeting is dissection of the government budget to focus on its gender-differential impacts, and to translate gender commitments into budgetary commitments.
Talking to FE, Kanta Singh, senior programme officer of Women Power Connect, a Delhi-based NGO said, Gender budgeting has become a fashionable buzzword for the Centre and the states. It will serve its purpose only if there is a thorough implementation of the provisions of gender budgeting, and proper auditing of these measures. The government must also consult women groups before formulating these schemes and allocating budgets for them, she said.
A pro-women measure taken by the Akali-BJP government has been reducing the stamp duty for properties transferred in favour of women from 4% to 3%. An amount of Rs 159 crore has been allocated for attendance scholarship to girl students studying in the primary section. Punjab has a poor record where the sex ratio is concerned, with female foeticide still a menace in the state. According to the 2001 census, the male-female ratio in Punjab stands at 1,000:876.
Gender budgeting statement was introduced in the Union Budget in 2005-06. It was divided into two parts. The first part included schemes that fully benefitted women. The second part compiled schemes where at least 30% of expenditure benefited women.
More than 19,000 infant and 900 maternal deaths were reported in Punjab last year. At that time, the state had earmarked 21.55% of the Plan funds for the welfare and development of weaker sections of society under the Special Component Sub Plan (SCSP). The annual plan of the state for the year was pegged at Rs 6,650 crore.