The Punjab government has claimed that state economy is growing at a faster pace than the national growth even a recent RBI data showed that the state failed to compress its fiscal deficit to 3% of gross state domestic product as prescribed under the Fiscal Responsibility and Budget Management Act.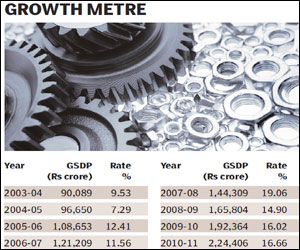 The state government, quoting Central Statistical Organisation (CSO), claimed that Punjabs growth rate at present was 8.8% as against average national growth of 7.4%. Similarly, the industrial sector had shown a whopping 17.9% growth in Punjab. The state government claimed that despite the tax holiday and host of special concessions given to neighbouring hill states of Himachal Pradesh, Uttaranchal and Jammu and Kashmir, Punjab was targeting a revenue collection of record Rs 14,000 crore by next year.
The statistical department also claimed that Punjabs economy was in top gear. The gross state domestic product (GSDP) of Punjab in 2002-03 was Rs 82,249 crore and growth rate of 3.31% which had gone up by 16.66% during 2010-11 and stood at Rs 2,24,406. The chart shows year-wise growth of GSDP in Punjab.
Talking to FE deputy chief minister, Sukhbir Singh Badal said, The Punjab government was trying to bring states economy back on track.
The deputy CM claimed Punjab was witnessing a flurry of development activities and also witnessing expeditious completion of development projects. There was urgent need to not to stop the financial flow to these projects, he said.