Under-priced secondary markets, together with complacency on the part of the government in rolling out reforms and contagion risks arising out of the euro zone, saw Indian capital markets lose a significant amount of money being raised through primary market offerings in the first six months of the fiscal.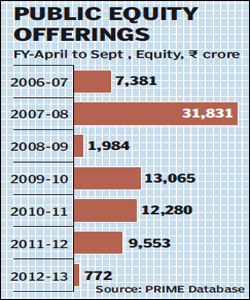 According to Prime Database, primary market mobilisation during April-September in FY13 stood at R772 crore, down a staggering 92% over the same period last fiscal. Of the total value raised in the first half, only R492 crore was raised through initial public offerings (IPOs) and R280 crore through the promoters' offer for sale (OFS) mechanism of the stock exchanges. In contrast, over R9,500 crore was raised through public offerings during the first half of FY12.
The first half of the current fiscal was literally a washout for the public equity issue market, according to a Prime Database press release.
As per Prime, 64% or R492 crore was raised through fresh capital, which typically goes into creation of productive assets. The remaining R280 crore was raised through offers for sale where the proceeds go to the sellers government, promoters, venture funds and other investors, and not to the company.
The number of offerings has also declined. Only 13 IPOs and six OFS were launched in the first half of FY13 against 29 IPOs and one follow-on public offer (FPO) in the same period last year. Small IPOs largely dominated the primary markets in the first six months this fiscal, with 10 out of 13 issues coming from the SME sector with an average deal size of R37 crore.
Prime also expressed disappointment that the government had not embarked on its divestment programme despite setting a target of R30,000 crore for the current fiscal. Despite continuing announcements, no divestment took place in the first half of current fiscal... This is as good a time as ever for the government to enlarge the investor base in the capital market, and raise money that it so desperately needs, said Prithvi Haldea, CMD, Prime Database.
Experts said many firms were keen on tapping the primary markets, but lack of clarity on economic conditions, both locally and globally, prompted merchant bankers and companies to postpone or cancel their IPO plans. In addition, many companies were not able to get right valuations to list their shares.
As many as 69 companies, including Jindal Power, Reliance Infratel, Lodha Developers, Sterlite Energy and Hindustan Copper FPO, saw their Sebi approvals expire since 2009 due to poor market conditions and unattractive valuations.
However, Prime was of the view that the outlook for the primary appears to be improving with the government announcing a series of fiscal measures and the secondary markets showing signs of revival. Bharti Infratel and Rashtriya Ispat Nigam have announced their plans to tap the primary market via an IPO of R5,000 crore and R2,500 crore, respectively.