The government has emerged as a significant gainer of the bull run in the capital markets with around 48 state-run entities (excluding banks and NBFCs) adding Rs 5.39 lakh crore in market value the current calendar year.
According to an analysis of share price movements since the end of 2008, market capitalisation of companies with promoter holdings of Central or state governments has increased by 83.5%, from Rs 6.46 lakh crore at the end of 2008 to Rs 11.85 lakh crore on December 29,2009.
DR Dogra, managing director & chief executive officer, CARE, said: Public sector companies with presence in the core sectors and having virtual monopoly in those sectors generally possess strong fundamentals. With the growth story of India remaining intact and PSUs being resilient in economic downturn, these companies showed a substantial recovery in their market capitalisation in 2009. With disinvestment programme gaining momentum, PSU companies might see significant value unlocking and greater efficiencies in coming years.
The promoters of three most valued PSU firmsoil exploration giant ONGC, commodity trading firm MMTC and mining company NMDChave contributed nearly half of the total gain this year.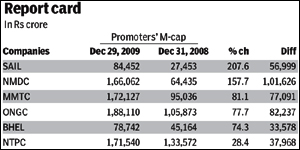 Government holding in MMTC is 99.3%, while in NMDC, it is 98.38%. Its holding in ONGC is also over 74%, and it is 89.5% in NTPC. Bhel and SAIL have government holdings of 67.72% and 85.82%, respectively.
Jagannadham T, equity head, SMC Capitals, said: The year 2009 has posted extraordinary returns and the next year can not come anywhere close to those returns. The strong rally in 2009 has helped PSUs garner healthy appreciation. The year 2010 should also able to provide decent returns for PSUs.
Further, the PSU companies, which are in the process of disinvestment, should able to enjoy good attention and participation from investors in 2010.
Mining giant NMDC has gained the highest amount of wealth, with the government stake in the company now worth Rs 1.01 lakh crore more than it was at the end of the last year. From Rs 165.20 on December 31, 2008, its share is currently priced at Rs 425.75. In hot pursuit is another company in the oil exploration sector, ONGC, where the government stake gained Rs 82,000 crore during this period.
The environment for PSU stocks has been extremely favourable, with most of them recording substantially higher returns than the market as a whole.
While the BSE Sensex has increased by 80.38% to 17,401.56 on December 29, 2009, from 9647.31 on December 31, 2008, BSE PSU Index also gained by 79.75% to 9,489.84 from 5,279.61.
Though the increase in share prices has been spectacular in some other cases, those have not translated into larger wealth creation for the government given smaller size of the firms.
Tide Water Oil has seen an increase by over Rs 1758.65 in terms of absolute share prices, but that added only Rs 44.81 crore in wealth. An increase of Rs 16.85 in share price in the case of TN Newsprint added a mere Rs 41 crore in wealth.
Not only mining and mineral stocks showed significant increases in market capitalisation, some other companies like SAIL also showed bullishness. Consider M-cap of government stake of SAIL, which increased by 207.62%, or that of MMTC, which increased by 81.12%. More than 250% increase in market capitalisation was noticed in cases of GMDC and Punjab Communications. On the other hand, less than 50% increase in government wealth was noticed in cases of seven PSUs that include Indian Oil and BPCL. MTNL, however, has seen a decline in its market value resulting in a loss of about Rs 168 crore.