Four early bird projects, to be developed under the Delhi Mumbai Industrial Corridor (DMIC) sub-region of Haryana, are moving at a fast pace of implementation.
The projects include mass rapid transportation system (MRTS) between Gurgaon-Manesar-Bawal, exhibition- cum-convention centre, integrated multi-modal logistics hub and a passenger rail link.
Officials of Haryana State Industrial and Infrastructure Development Corporation (HSIIDC), the nodal agency told FE that the draft reports of these projects are being examined. Feasibility studies are being conducted to work out the modalities of the projects. The DMIC consultantsJurong and KPMG-led consortiumare drawing the plans for these projects, said the official.
Pre-feasibility study of MRTS project has been conducted and location is being finalised. The alignment for MRTS has been finalised and now the minor details are being worked out. Also the boundaries are being drawn for the Manesar-Bawal industrial cluster to be spread over approximately 800 square km of area, a senior HSIIDC official said.
Moreover, pre-feasibility studies for exhibition-cum-convention centre and integrated multimodal logistics hub are being conducted. Gurgaon has been shortlisted as the site for convention centre. The integrated multi-modal logistics hub is likely to be developed in Rewari, spread over an area 1,500 acre.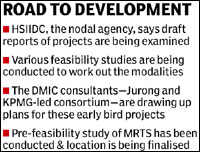 The first phase of the over $100 billion DMIC is expected to be completed by 2018. The DMIC, running through six statesHaryana, Uttar Pradesh, Madhya Pradesh, Rajasthan, Gujarat and Maharashtrais being developed in collaboration with the Japanese government as a global manufacturing and trading hub.