Company shares 34.4.1% of subsidy in Q4
Q4FY12 results: Ebitda (earnings before interest, taxes, depreciation, and amortisation) of R116 billion (+51% year-on-year, +5% quarter-on-quarter) and PAT (profit after tax) of R56.4 billion (+102% y-o-y, -16.3% q-o-q). Reported PAT included tax write-back; adjusting for that, PAT was R51.6 billion, beating our estimate of R32.6 billion mainly because of lower than expected subsidy share and higher than expected other income.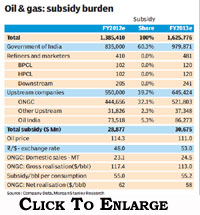 FY12 net oil realisation (including JVs) was $62/bbl: ONGC shared R445 billion or 32.1% of overall subsidy burden for FY12. However, since its 9M(month) FY12 share averaged 31.1%, Q4FY12 share was 34.4% and net realisation was $54/bbl. Gross crude oil price realisation was $119.1/bbl, implying a premium of $2.9/bbl to Brent, in line with our expectation.
Downside risks to net oil realisation: We currently estimate overall subsidy at R1,625 billion if ONGCs share is maintained at 32.1%; we see net realisation falling to $58/bbl from our current assumption of $60/bbl. This implies downside risk of approximately 5-7% to our earnings. We highlight that subsidy-share mechanism remains ad hoc; the share for the full year is typically finalised only in the last quarter of the yearresulting in volatility in reported quarterly results.
Oil production remains lacklustre: Oil production declined 2.3% sequentially, mainly due to lower standalone volumes. However, gas production volumes increased 2.4% q-o-q.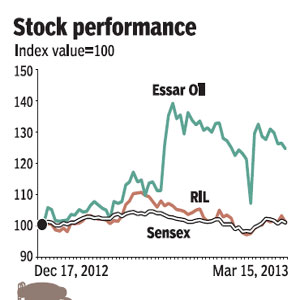 Highest reserve accretion in the last two decades: ONGC reported ultimate reserve accretion of 84.13 (617mboemillion barrels of oil equivalent) with an impressive reserve replacement ratio of 1.79 in FY12 compared to 1.76 in FY11. During FY12 ONGC made 23 exploration discoveries.
What does this mean for our numbers Based on our Q4FY12 forecast, we see downside risk of 5-7%. However, we maintain our estimates for now.