Going by the number of new institutes sanctioned by the All India Council for Technical Education (AICTE), professional courses like architecture, pharmacy, hotel management and computer applications have lost some of their popularity. However, MBA courses continue to hold sway among students.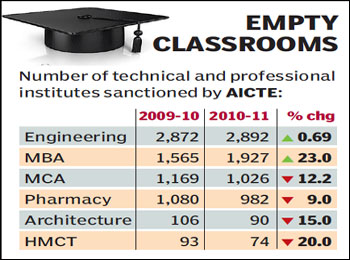 Professional courses account for 19% of the total higher education enrolment and except management programmes, all other technical and professional courses in the country have seen a decline in the number of institutes and seats. The AICTE sanctioned 12% fewer institutes for master of computer applications (MCA) programmes in 2011 and 15% less for architecture courses compared with 2010. Hotel management and catering technology (HMCT) programmes have been hit the most with the council reducing the number of approvals by 20% in 2011.
The council has also decided not to approve new engineering colleges from the 2013-14 academic year due to a growing number of vacant BE/BTech seats in existing colleges. Engineering institutes saw a minuscule increase of 0.69% despite being the most popular professional stream in India, accounting for about 10% of total higher education enrolment.
There are no takers for these programmes and we have a surplus of institutes which is much more than the requirement. This overcapacity along with lesser popularity for such courses is the problem, said a senior AICTE official, adding that of the 74 institutes approved by the council this year, the majority are engineering colleges.
However, there is a decline in the institutes that offer other professional programmes. For instance, from 1,169 MCA institutes sanctioned in 2009-10, the number fell to 1,026 in 2010-11 while in the same period the number of AICTE sanctioned pharmacy institutes declined from 1,080 to 982.
"The existing colleges are not filling up and there are no takers for private institutes. Moreover, poor quality of teaching and defunct curriculum drive away potential students, explained Mishra Ghosh, director, Ficci's education committee.
The lack of qualified faculty, and the inability of these institutes to maintain the standards set by AICTE or to pay the salaries fixed by the AICTE have also led to closure of many such institutes in the country. Close to 134 institutes have submitted applications for closure of programmes due poor student strength this year.
According to an AICTE official, There are many fly-by-night operators that impart poor quality education. This is also the reason that students are not interested in such courses any more.
The number of AICTE-approved technical institutes was 5,269 at the beginning of the 11th Plan period and currently stands at 10,139. The Planning Commission is targeting an additional enrolment of 10 million in the 12th Plan period to bring Indias gross enrolment ratio (GER), which stands at 11% and is half the world average and way behind developed countries (54%).