Experts say pricing parity with Natco, access to big funds from UN could be reasons
Chairman and managing director of Cipla, YK Hamied, has cited humanitarian approach behind his move to slash prices of some cancer drugs by between 59% and 76%. However, industry peers and analysts do not miss the larger objective to price the drugs lower than Natco, whose low-priced medicines are expected to reach the market in two weeks.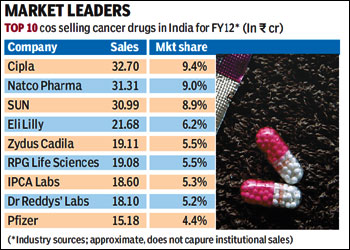 In March, Hyderabad-based Natco was permitted by the patent office to make a generic version of German firm Bayer's cancer drug Nexavar at just R8,900 compared to the multinational's R2.8 lakh through the compulsory licensing route. Dr Hamied's move is a signal to multinational companies to lower their prices, said DG Shah, director general of the Indian Pharmaceutical Alliance (IPA) that represents home-bred pharma companies. It could also be an indication that another compulsory licensing is on its way.
A compulsory licence allows the maker of a generic drug to make and sell a copy of the patented drug by paying a specified royalty to the patent holder. The patent office's move had stirred up a heated debate on the pricing of medicines in the country, with multinational companies arguing that such a move to stifle prices will undermine innovations in the industry.
Cipla's Hamied had contested this. Now that Cipla has also reduced prices, the government should wake up and announce a pragmatic compulsory licensing policy, he told FE on Friday. My move is not against multinationals, and has nothing to do with Natco. It is all about making drugs affordable.
Analysts said dropping prices in a segment as niche as oncology will not immediately generate a price war, as the segment is less competitive with only a handful of Indian companies in a segment dominated by multinationals. There are more and more cancer cases now. And in India, there can be no case for premium pricing, said Sarabjit Kaur Nangra, vice-president, research, at Angel Broking.
Apart from Cipla, which has around 9.7% share of the oncology drugs market, and Natco, other home-bred companies in the cancer segment are Sun Pharma, Dr Reddy's Laboratories, Zydus Cadila, and RPG Life Sciences, among others.
Competitors are in no mood to lower prices immediately. No price revision on cancer drugs is being evaluated right now, said a Sun Pharma spokesperson, which has around 9% share of the oncology market. Data on the oncology market is often flawed as much of the sales happen through hospitals, which is not captured by data providers.
Cancer cases are on the rise with more and more cases being detected and also due to the changing lifestyle patterns, said Amit Backliwal, managing director, IMS Health, a provider of business intelligence on the pharma sector. This shifting of cancer base in India can put a huge burden on our healthcare system.
However, he said actions like compulsory licensing can be detrimental to the industry. With compulsory licensing, the effort is to make drugs affordable, but we are also discounting the product for many who could have actually afforded the drug, he said. That will hit innovations in areas like oncology.
What can rather be done is to look at other ways of improving access to drugs through innovative financing, better insurance coverage and so on.
On Thursday, Cipla lowered the price of generic Sorafenib, used in advanced kidney cancer, from R27,950 to the patient per month to R6,840. Cipla has also dropped its price on lung cancer drug Gestinib by 59%. Retail prices have come down from R10,200 to R4,250. It also lowered prices of brain tumour drug Temozolamide.
Cipla's move on its cancer drugs could also be to benefit from a UN access programme, giving it access to big funds. The UN has approved a resolution to extend its access programme to non-communicable diseases like oncology in underdeveloped and developing countries, said IPA's Shah. Cipla's move could also be to benefit from that.
In 2001, Hamied took the battle against multinational companies on the African turf, and supplied anti-AIDS drugs at a $1 a day, at a time when the best selling drug by an MNC cost over $32 a day. Maybe he wants to do a repeat of this with the cancer drugs in India too, Shah said.
Investors welcomed the company's move as shares of Cipla rose 2.46% on the BSE on Friday to end at R325.20, on a day the benchmark Sensex shed over 320 points, or 1.87%. Asked whether the price reduction will improve sales, Hamied said, I hope so. You can call this a repeat of our pricing on HIV drugs. We could do more.
Rival companies saw the move as a desperate effort by Cipla to prevent its products from losing out in the market place owing to competition. Dr Hamied has made a virtue out of necessity, said a senior official with a rival pharma company. Had he not reduced the prices, he would have been priced out of the market by competition. They did not expect a price war in a segment as niche as oncology. Oncology drugs need dedicated facilities, and prices will need to justify that, they argue.
Multinationals have long argued that compulsory licences should be granted only in 'exceptional circumstances'. Following the patent office's order in Nexavar, Ranjit Shahani, president of the Organisation of Pharmaceutical Producers of India (OPPI), that represents MNC pharma firms in India, had said, OPPI is disappointed with the decision to issue a compulsory licence. We believe compulsory licences should be used only in exceptional circumstances, such as in times of a national health crisis.
If used arbitrarily, compulsory licences will serve to undermine the innovative pharma sector and will be to the long-term detriment of the patient, he had said.