In a move expected to speed up investment in the power, steel and cement industries, the government has decided that companies need not wait for coal linkages to seek environmental clearances. An environment ministry circular on Thursday also said the clearance process should be completed before companies start bidding for coal blocks. This would benefit Tata Power, GMR, Lanco, JSPL and ACC which plan big investments in these key areas using coal as fuel or raw material.
The new process would be as follows: coal linkages will have to be ensured by prospective investors at the stage of grant of final environment clearance for the projects, instead of the initial stage when the terms of reference (TOR) need to get the green nod.
Apart from fast-tracking projects, the policy will ensure better price for coal as uncertainty over clearances goes. Companies now have to wait for several months before they get coal linkages. The process of getting initial clearance starts only after this stage. This delays a project, altering its cost structure and impacting the financing programme.
?The first stage of environment clearance for projects is TOR and the time lag between this clearance and the final environmental clearance is a minimum of one year. The changes will give companies enough time to get coal linkages while initiating the process of environment clearance. So, a project will not be rejected at the first level because of lack of firm coal linkages,? said an MoEF official.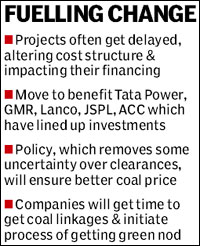 The MoEF order has come in the wake of some state-level expert appraisal committees insisting on firm coal linkages even at the TOR stage. This has created confusion and projects worth several thousand crores have been held back for lack of clarity. ? The financial closure process of projects is linked to the environment clearance and the the industry should be indifferent as long as the principle is uniformly employed,? said a KPMG analyst. With regard to offering coal blocks only after completing the environment clearance process, the ministry's view is that it would prevent funds from getting locked into non-viable projects besides ensuring that rules are not bent to accommodate anyone. ?It is a prudent way of doing things that will also remove uncertainties relating to environment clearance in the midst of a project cycle.
In addition, it will ensure faster environmental clearances for mining projects as the process will involve two government agencies,? said Monnet Ispat and Energy executive vice-chairman and MD Sandeep Jajodia. The changes proposed by MoEF come as a pleasant surprise for investors who were expecting further tightening of regulations under Jairam Ramesh. He is known for going by the book and taking stern measures if any of the rules for environment clearance are broken.
The strong stand taken by the minister has already landed the coal and environment ministries in a war of words over latter's proposal over the 'go' and ?no-go? areas for coal mining. There are 203 coal blocks that are being denied mining permission by the MoEF because they fall in the no-go areas. A case in point is the Lohara West and Lohara Extension coal block which was allotted to Adani Power for its 3,300-Mw Tiroda power plant in Maharashtra. The MoEF had rejected environment clearance for the project as the mine fell in the Tadoba-Andhari Tiger Reserve.
The Centre had identified 229 coal blocks for captive end-use, of which 208 coal blocks (including 61 coal blocks are allocated to central and state PSUs under government dispensation) with reserves of 48.82 billion tonne that have been allocated to various public and private sector companies. Till now, 26 coal blocks have come into production. The policy on captive coal blocks has been stopped at present pending start of auctioning process.