The Satyam fraud, that came to light a year ago, was an eye opener for India Inc in more ways than one. With the role of independent directors of the IT company being questioned following the fraud, the need for more protection to directors against claims for wrongful acts has been sought. This has resulted in corporate groups and private equity firms queuing up to buy more innovative insurance policies.
The demand for policies such as directors & officers (D&O) increased three fold during the 2007-2009 period. D&O insurance cover protects directors and officers of a company against claims for wrongful acts in respect of their potential exposure to a personal liability. The scope of such policies usually range between $2 million to $100 million, depending upon the size of the companys operations.
There is also a 15-20% increase in demand for other policies such Private Equity Managers Liability (PEML) this year over 2008. PEML is a policy that covers PE or venture capital firms and fund managers in transferring and mitigating personal and business risks associated with the funds as well as the investments. Prominent companies in India that issue these products include Tata AIG, HDFC Ergo General Insurance, Bajaj Allianz, and New India Assurance Company Ltd. among others.
Last week, Infosys founder NR Narayana Murthy, who was also a director of the board of Bangalore International Airport Ltd (BIAL) in 2005, landed in trouble after a joint house panel probing the construction of BIAL indicted him for faulty design and construction of the airport. Earlier, veteran investment banker Nimesh Kampani, who had resigned as independent director from Nagarjuna Finance in 1999, was under investigation for the firms alleged failure to return money to depositors.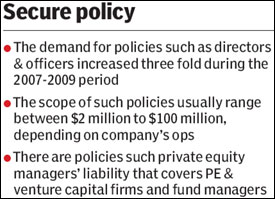 Sanjay Kedia, managing director and country head, Marsh India Insurance Brokers, said, After the Satyam crisis, a number of clients have enquired what D&O actually offers, and how it will operate, especially in a scenario where the chairman admitted to a fraud. There is about 45% growth in D&O policies this year compared to last year. The total number of D&O policies done by Marsh in 2009 is more than 200, against 138 policies last year. US-listed Indian companies and financial institutions increased their limits and cover by more than three times recently, he added.Uttara Vaid, COO & executive director, Aon Global Insurance Brokers Pvt. Ltd, said, We believe that D&O is rapidly moving from the realm of a sleep-easy cover to that of a corporate necessity. In terms of policy count, three times more D&O policies have been sold in India in 2009 as compared to 2007. However, the premium collected in 2009 as compared to 2007 has just grown between 15-20% because the D&O market continues to be soft, except in very few high risk pockets.