A team of officials from South Korean steel major Posco would visit Karnataka in mid-February to appraise the land parcels available in the state in order to set up their proposed integrated steel plant, a top Karnataka government official said.
Talking to FE on the sidelines of a CII event on corporate social responsibility in Bangalore on Thursday, principal secretary of commerce and industries department of Karnataka VP Baligar said, Posco requires approximately 5,000 acres but has not yet decided on the location.
Posco is interested in North Karnataka like Bellary, Koppal and Bijapur. We have already notified 4,000 acres in Bijapur. Another 4,000 acres would be notified in Bellary region very soon, he said.
Earlier this month, the state government formally cleared the steel plant proposals of Posco and ArcelorMittal, the worlds largest steel maker. Posco would pump in Rs 32,300 crore to establish a steel manufacturing facility to produce 6 million tonne per annum (mtpa) while ArcelorMittal would invest Rs 30,000 crore for 6-mtpa capacity plant in Karnataka.
The land notified in Bijapur is free to be allotted to any company, either to Posco or to ArcelorMittal, he said. However, he indicated that ArcelorMittal, which requires 4,000 acres, prefers to set up its plant in Bellary that is rich in iron ore deposits. He said, ArecelorMittal already asked 4,000 acres there (in Bellary). If Posco also requires land in the same area, we will issue another notification.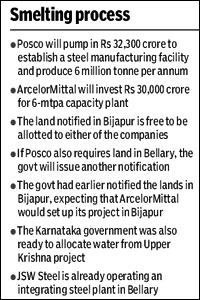 According to sources, the government had earlier notified the lands in Bijapur, expecting that ArcelorMittal would set up its project in Bijapur. The government was also ready to allocate water from the Upper Krishna project. However, ArcelorMittal is more keen on getting lands in iron ore-rich Bellary region, where Sajjan Jindal-lead JSW Steel is already operating an integrating steel plant.