Fresh from receiving full powers, oil regulator PNGRB has invited bids for giving licences for retailing CNG to automobiles and piped cooking gas to households in eight cities in West Bengal, Gujarat, Punjab and Haryana.
The Petroleum and Natural Gas Regulatory Board (PNGRB) has invited bids for Asansol-Durgapur (in West Bengal), Bhavnagar, Ghandhidham-Anjar, Bhuj-Mundra and Jamnagar (all in Gujarat), Ludhiana and Jalandhar (in Punjab) and Panipat (in Haryana). According to the public notice, bids will close on December 3, 2010. Nearly three years after it came into existence, the government this month notified a crucial section that now give the regulator explicit powers to issue city gas distribution licences.
The Section 16 of the Petroleum and Natural Gas Regulatory Board Act of 2006 was notified with effect from July 15, official sources said. The PNGRB, which is to regulate petroleum product and natural gas sector, came into existence in October 2007 but Section 16 of the Act was not notified by the government. The section gives PNGRB powers to authorise companies to retail CNG to automobiles and pipe cooking gas to households.
Sources said PNGRB, however, did not feel constrained by absence of Section 16 and held two rounds of bidding for giving city gas distribution rights. In March last year, it conducted the first round for six citiesKakinada in Andhra Pradesh, Mathura and Meerut in Uttar Pradesh, Kota in Rajasthan, Dewas in Madhya Pradesh and Sonepat in Haryana. GAIL Gas swept the round bagging five cities. Bhagyanagar Gas, an equal joint venture of GAIL and Hindustan Petroleum, got the sixth city of Kakinada.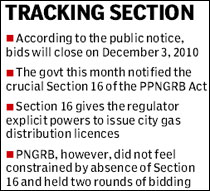 In the second round in August, PNGRB invited bids for seven cities, including Ghaziabad, Allahabad and Chandigarh. Indraprastha Gas, which claimed it had central government and Supreme Court authorisation for retailing CNG and piped gas in Ghaziabad, challenged in the Delhi High Court the PNGRBs authority to issue licences in absence of the Section 16.