All infrastructure projects above Rs 1,000 crore wont necessarily go to the proposed National Investment Board (NIB) for faster approvals, as a secretariat likely with the Prime Ministers Office will decide if a project needs NIB assistance.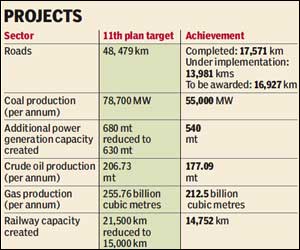 Under the terms of business finalised by the finance ministry in a cabinet note, even if the NIB picks up a particular project for evaluation, it would include it on its agenda only after getting inputs from the secretariat.
Once the NIB or Cabinet Committee on Investment comes into being, the Cabinet Committee on Infrastructure (CCI) would be dissolved and all its functions would vest with Cabinet Committee on Economic Affairs (CCEA).
The CCIs would stand dissolved and all the powers of CCI would vest with the CCEA except for those projects/sectors that are notified under NIB, said a draft cabinet note moved by the Department of Economic Affairs (DEA) of the finance ministry.
The government proposes to wind up the CCI after instituting a high level infrastructure project facilitation mechanism under the NIB while a handful involving large projects with an investment of over R1,000 crore in sectors such as ports, railway, petroleum, railway, roads and mining would be referred by a secretariat in PMO for direct action by the proposed investment board for getting faster clearances.
The note added: The NIB will be supported by a small dedicated secretariat, which could be located either in the PMO or in the DEA. The NIB shall take final decision in the matter which shall be identified by the secretariat.
At present, the CCI headed by Prime Minister Manmohan Singh oversees approval of all infrastructure projects costing more than R300 crore in sectors such as energy, railways, roads and highways, airports, telecommunications, IT, irrigation, housing and urban development. It also sets annual parameters and targets for performance of all infra sectors and reviews their performance.
In fact, the finance ministry has identified delays in environment and forest clearance process and unsatisfactory administrative arrangements in the department as one of the biggest bottleneck to accelerate the pace of development of infra projects.
In the note, the DEA has said that environment clearance (EC) and forest clearance (FC) are best known examples of regulatory hurdles that inhibit decision making process for projects. Although there is a mandated time frame, delays occur because of unsatisfactory administrative arrangements, the note has said.
The government plans the NIB as a body directly supervised by the PM and having representation from key ministries including the finance ministry as members. This would be a sub-committee of the cabinet and would carry authority of the government.