Insurers will have to submit a product planner to Irda to help it expedite the approval process & assist customers in making an informed choice
A month-and-half before the end of each financial year, all insurance companies will now have to submit a product planner to the sector regulator, Insurance Regulatory and Development Authority (Irda). The regulator has felt the need to expedite the product approval process and, to do so, it will require certain information from the insurance companies to plan for resources, support planned filings and ensure fairness while approving the products.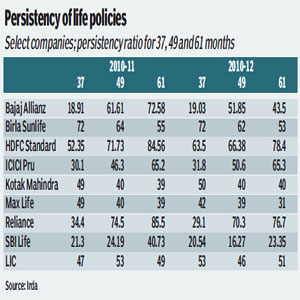 Also, if an insurance company wants to file more than five products in a particular year, it will have to furnish the supporting market research and product-wise persistency for 13, 25 and 37 months as on April 30 of the previous year. However, for the current financial year, the product planner can be filed by April 30. Analysts say the product planner will help insurers plan in advance and avoid a rush of new products in the last three months of a financial year. This will also help customers to go through the details of the product and plan their investment accordingly.
Currently, under the file-and-use procedure, all life insurance companies willing to introduce, modify or withdraw a product can submit an application to obtain prior permission of Irda. Also, within a month of receiving the application, the regulator, if necessary, will seek additional information and the insurer cannot start selling the product until Irda confirms the final approval in writing.
Insurers, after designing a product, have to file it with Irda for approval. Under the use-and-file process, if the insurer complies with the conditions attached to the standard product, the products will automatically be deemed to have been approved after 15 days of its intimation to the Irda unless the latter finds it non-compliance within that period.
Analysts say policyholders often find it difficult to choose from multiple products that companies offer and even get confused between participating and non-participating products. So, to make insurance products simple and increase insurance penetration in the country, Irda has come out with a policy to accord automatic clearance to standard life insurance products.
Standards products will be designed for participating and non-participating endowment plans, whole life policy, and pension and health insurance plans. In participating products, bonus is declared every year, and the amount depends on the performance of the fund. Participating products are the bestsellers in the traditional product category and command higher commission for the agent.
Non-participating policies are mostly pure term policies with higher protection. But since the returns are lower, policyholders do not prefer such policies. The policies offered by various companies under participating and non-participating categories differ in features. Standard products will, thus, help bring in some uniformity across insurers.
After a series of regulatory changes since 2010, the life insurance industry is facing multiple challenges. Even after a decade of opening up the sector to private players, the per capita premium in India is stagnating at $49-59 for life insurance companies and $10 for non-life companies. The total new business premium collected by the industry in FY12 was R1,13,678 crore against R1,25,618 crore in FY11, a drop of around 10%.
There is a perceptible shift in the life insurance market with unit-linked products witnessing a drop in sales and customers moving towards the traditional product. Linked new business saw a significant drop of 67% year-on-year to R17,455 crore in FY12 compared to R52,739 crore in FY11. Non-linked new business premium showed a 32% year-on-year growth to R96,224 crore as on March 2012 against R72,878 crore in March 2011. State-owned Life Insurance Corporation (LIC) remains the most dominant life insurance player in the country, with a disproportionate share of new business of around 65% of the new premium in the first half of FY13.
According to a Barclays report, in FY04-09, when unit-linked products constituted a significant portion of new business premium, the insurer, which is focused on traditional products, lost significant share to private sector peers. The state-owned behemoth's market share of new business premium fell from 85% in FY04 to 41% in FY09.
However, the regulatory changes for Ulips in FY10-11, the report says, helped LIC regain a significant portion of its market share. And since FY09, the company has slowly rebuilt its market share position, with new business share improving from 41% in FY09 to 65% in first half of FY13.