With the Centre planning to amend the Atomic Energy Act and the country joining the nuclear liability convention, several private sector companies are exploring the availability of funds from state-run Power Finance Corporation (PFC). A PFC official told FE, PFC is open to finance all type of power projects in India, including nuclear projects. Currently, nuclear power projects are executed by the Nuclear Power Corporation of India (NPCIL), which is a central PSU, since the sector is still not open to the private sector. NPCIL, which raises its own funds from the market and gets budgetary support from the government, has so far not taken money from PFC. However, due to the governments move to increase nuclear capacity to 63,000 mw by 2032 from the present 4,120 mw, the necessary modalities are being worked out to involve the private sector and thus PFC is receiving several queries about funding.
A large number of private sector companies, including Tata Power, Reliance Power, GMR and Lanco, have already expressed their desire to foray into the nuclear sector. Besides, state-run NTPC, which plans to achieve a volume of 75,000 mw by 2017, has set a target of 2,000-mw nuclear capacity by the same period. Currently, the capital expenditure for 1 mw of the project is estimated at Rs 8 to 10 crore and hence the requirement for funding will be quite large. The official also added, Take the example of NPCILs proposed 10,000 mw project at Jaitapur in Maharashtra. As much as Rs 1 lakh crore will be needed, and NPCIL proposes to raise this amount, both within and outside India, by multiple instruments. PFC is well equipped to provide funds for nuclear projects once the sector is opened up for the private sector.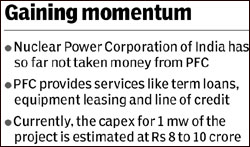 Meanwhile, PFC, which recorded a net profit Rs 637.90 crore in the quarter ended September 30, compared to Rs 329.32 crore in the previous quarter, will also provide funds to more gas-based projects in the country due to the increased availability of gas from Reliance Industries K-G D6 field. So far, PFC has financed three gas-based projects, namely Lanco Kondapalli, Gautami Power and Konaseema which have received gas from the K-G D6 field. Gas price is a pass-through in tariff pricing. There is no gas price or otherwise between these utilities and RIL. Hence, we do not envisage any difficulty on the recovery of our loan, the PFC official said. PFC provides fund-based services like term loans, equipment leasing, bill discounting and buyers line of credit. It also provides non fund-based services like guarantee services and consultancy services to the power sector. The Centre, as on June 30, 2009, holds a stake of 89.78% in PFC.