In the last eight years, private equity funds have invested over $65 billion and some of the sectors like IT, pharma and real estate got much-needed funding to grow their businesses. Though private equity funds were very bullish on India during the boom years between 2006 to 2008, policy paralysis coupled with the global economic slowdown has affected private equity investment in India. Last year, PE funds invested $7.4 billion as compared with $8.8 billion in 2011. The number of deals, however, increased from 373 to 400 during the same period. Average deal size reduced last year as compared with 2011 and mid-market growth capital deals continued to be the focus of PE funds.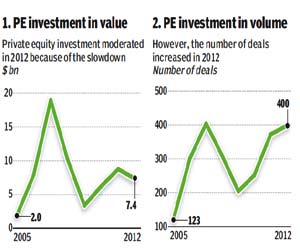 Analysts say the PE industry earlier had funds that were focused on providing only growth capital. Now the industry is balanced with funds available at all stages of the lifecycle be it seed, venture, growth, buyout and even distress. Sector-wise, IT received PE funding of $1,867 million last year in 140 deals, followed by pharma, healthcare and biotech, which got funding of $856 million in 28 deals. Domestic consumption sectors like pharma, healthcare, food and beverages, FMCG and education look attractive for PE investors. From 2005 to 2012, PE funds have invested over $9 billion in over 150 deals followed by banking and financial services at over $7 billion in over 260 deals.
There are over 200 PE funds operating in India and are broadly categorised as international funds operating through an India office, funds sponsored or anchored by Indian financial institutions; or funds sponsored by business houses and funds managed by general partners with prior investment or industry experience.