The Indian patent office is making the Council of Scientific and Industrial Research (CSIR) an integral part of the patent application processing system, a move that many perceive could create a conflict of interest, as the CSIR itself is a major patent seeker. It is felt that other patent applicants might not be comfortable with the idea of CSIR having access to information furnished by them.
In a recent move, the patent office has started outsourcing a limited number of Indian patent applications to a CSIR wing, Unit of Research and Development of Information Products (URDIP) to prepare Search Reports (SRs) ? a critical document that recommends whether an invention is patentable. The in-house of patent examiners would subsequently vet the SRs.
This is being implemented by the patent office after the department of industrial policy and promotion (DIPP) signed a memorandum of understanding with CSIR in this regard in August 2010. While sections of patent experts hint at a potential ?conflict of interest? inherent in the plan considering that CSIR itself is a patent filer, the patent office maintains that there would be no such breach as it would ensure that CSIR?s own patent applications wouldn?t be sent back to the government?s science research body for search scrutiny.
Confirming the development, PH Kurian, controller general of patents told FE, ?Yes, we have decided to send around 2,000 to 3,000 of Indian patent applications annually to URDIP for prior art searches for which we would be paying CSIR an agreed rate. The rationale is to bring down the pendency rates and faster processing of application. We wanted to outsource these applications to a government agency which would have the infrastructure, competence and the experience to do the search processing. CSIR?s unit fits the bill?.
Kurian maintains that there would be no ?conflict of interest? as patent applications filed by CSIR wouldn?t be sent back to the agency?s employees for processing. ?As far as the practice of outsourcing goes, internationally it is well established, particularly in the case of Japan and US,? he added.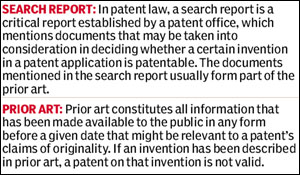 While some other senior patent officials told FE that applicants shouldn?t be concerned about application processing, a few other stakeholders did express reservations that competitors may not like their application to be reviewed by CSIR. ?In practice, a patent examiner or controller is not allowed to file patents as per the Patents Act. By the same logic, a filer should not be allowed to be a part of the grant process? an industry member said.
Some others take a middle view. ?Expansion of patent office is long overdue. Outsourcing arrangements such as these appear more like stop gap arrangements. Personally, I would prefer that patent office should recruit and absorb these officials, even if it is on contractual basis. Our patent examiners and controllers are expected to work full time in their capacity which is not possible in tie ups such as these where, the official doing searches would be performing an additional resposibility. Also, the terms of this arrangement should be made public,? said Gopakumar Nair, patent attorney and founder, GN Associates.
IP expert Shamnad Basheer feels, ?Outsourcing to CSIR may not necessarily be a bad thing but one must appreciate that notwithstanding the most sophisticated firewalls to keep the CSIR ?search authority? separate and distinct from the CSIR ?patentee? avatar, ?conflict? is always a matter of perception.? He further adds, ?Given the comparative lack of resources and expertise at the patent office, my personal preference would have been for a strategy that focused on ramping up the search skills of our own patent examiners?. Sunita Sreedharan, CEO, SKS Law Associates said "Prima facie, an interested party should not be involved in conducting searches, which should be carried out in an impartial manner. However, it is advisable to see the terms of agreement between CSIR and DIPP before commenting on this arrangement. Considering that there is a huge backlog at the patent office which have to be addressed and that CSIR is a responsible statutory government agency, we expect such a step to unburden the patent examiners from conducting searches and focusing their energies on examination of the specifications as per the Patent Law.
This way an examiner would effectively use the time otherwise spent on searches on clearing more number of applications. We also expect the government to have put in place checks and balances to avoid any form of conflict of interest that may arise in this case".