Panasonic Eluga U is priced at Rs 18,990.
If you are in the market to pick up a new smartphone for yourself or for your dear ones, chances are youll be confused by the staggering number of mobile devices occupying the shelves of gadget shops these days. Of course, if you are keen to pick up an iPhone, BlackBerry or a Samsung high-end phone, then the task is made simpler; such devices attract a committed clientele and are a league in their own. It is the mid-range segment that I am referring to, which sees a new Android device debut almost daily and with such a wide choice available, that too at affordable ratesit is obvious that for an ordinary customer, confusion looms.
No wonder, handset vendors are working overtime to differentiate their offerings in some way or the other. Take for instance, Japans Panasonic, best known for its television sets and home theatre systems. Although the consumer electronics major is rather late in entering the Indian smartphone marketbrimming with action these daysnevertheless, it is working hard to establish itself here. What better way than to entice customers with stylish and advanced devices, which are easy to use and easy to own.
Panasonics new Eluga U smartphone stands out in the crowd primarily because of its good looks, judicious mix of hardware and software and premium build quality. And its very much affordable tooR18,990-a-piece. It is available in black and white colours. Let us check out the devices chief features and whether it will appeal to the users.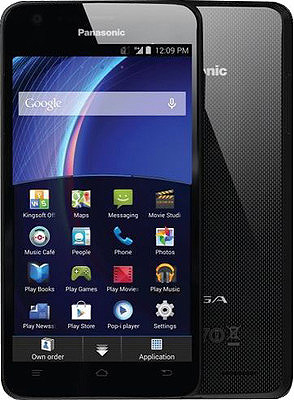 Panasonic officials reckon that the Indian smartphone market is young and growing at a rapid pace, with ample space for newer players to enter and garner the best of the opportunities offered by this space. The huge potential of India lies in the fact that it offers a very large customer base to tap into. Indian smartphone market is fast-growing with enormous consumption possibilities and is yet to reach its maturity curve. No wonder, the Japanese consumer electronics firm (Panasonic) is bullish on the Indian market and is making aggressive investments in the region on products, talent and marketing.
Back to their new offering. In terms of the design, Eluga U is the best Android phone I have laid my hands on in quite some time. Measuring 141.5 x 71.3 x 7.95 mm, this Eluga is large, yet thin. The first impression is the feeling you get when you hold it in your handit is sleek, stylish and
extremely solid. Viewed from the front, its a sharp and shiny object. Its overall build gives it a much more premium feel than more expensive Android offerings presently available in the market. It definitely stands out from the rounded rectangle crowd.
This is Panasonics flagship phone in its widely popular smartphone series Eluga; renowned for its superior design, latest technology and unique user interface for enabling single hand operation. Eluga U has been designed keeping in view the series legacy, where the device is made 7.95 mm unibody with textured glass design. Its back cover has a premium mirror printed texture on an anti-shatter crystal glass for classy looks and durability.
In my assessment, the Eluga U is targeted at the young generation the always-on-the-go college youth, and the executive class, who is always on the lookout for better, faster and savvier smartphones on the go.
The Eluga U has a 12.7 cm (5 inch) IPS HD (720 x 1280) display, Android 4.4.2 (Kitkat) and runs on the powerful and power efficient Quad Core Snapdragon 400 processor for seamless multitasking and beautiful visuals, and support for 2 GB RAM.
It sports a single hand operative Fit Home user interface with
features such as Kwik Lock, where the user can double tap the home screen to lock. Put simply, you get the advantage of a big screen in a package that easily fits in smaller hands.
Probing further, there are some striking features which help Eluga U differentiate itself in an otherwise crowded Android market. It offers users audio enhancement technology for rich 3D surround sound music, wide bass response and theatre-quality audio. Its voice enhancement technology also ensures clearer conversations. Its camera is fast too, capturing shots almost instantly and its autofocus locking on almost just as fast.
The smartphones built in Wi-Fi ensures smooth and fast internet browsing. I also found the 2500mAh Lithium-Ion battery stamina to be reasonably good. It should see you through two days of moderately heavy use.
My takeaways: The Eluga U is the best Android phone I have seen in a long while. With its blazingly swift quad-core processor and eye-grabbing 5-inch screen, not to mention a great camera and long battery life, this Panasonic phone is a worthy buy. Highly recommended.