Reeling under the high onion prices, there is some good news coming your way. Onion prices which have been rising since the last three months could drop in the next few weeks as the late kharif crop has started arriving in the market.
The kharif crop could not be harvested in time because poor rains in key onion growing states of Maharashtra, Gujarat , Orissa and Karnataka delayed sowing by a month last year. Traders at Lasalgaon in Nasik district, the hub of countrys onion trade said kharif output, which was expected to start arriving in the markets by the middle of January 2010, would now come by middle of February.
In the last three months, onion prices have been looking northward and consumers pinned their hopes on arrival of kharif produce to cool down prices.
Arrivals of late kharif crop in Gujarat and Maharashtra markets have increased and are expected to rise more in February.
Harvesting of late kharif crop in Orissa has started and arrivals are expected to rise in February, the National Horticulture Research and Development Foundation (NHRDF) said in its latest crop prospect report.
Over all, late kharif onion production is expected to be close to 1.5 million tonne compared to last years production of 1.6 million tonne.
The harvesting started in January 2010 and will continue till mid-March, NHRDF said.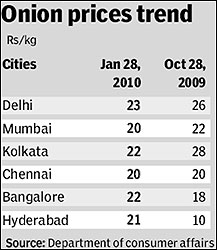 Onion prices have been in the range of Rs 1,600 Rs 1,800 per quintal during the last three months, which has resulted in high retail prices across the country.
In Delhi , retail prices have come down to Rs 23 per kg on Thursday from Rs 26 per kg three months back.