With farmers still bringing in produce from the summer crop to various mandis of Maharashtra, onion prices across the country have remained stable during the last few months, but a delay in monsoon could push prices northward from September.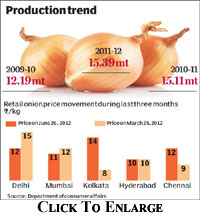 Traders from Nasik, hub of the countrys onion trade say that there is sufficient stock of onions in the country that would last till September. Farmers in Maharashtra, the biggest producer of onion in the country with 40% of the total output, have been bringing in produce daily to various mandis in Nasik district besides holding on to some stock.
There is sufficient onion stock because of a bumper summer crop and there is no concern about supplies till September, National Agricultural Cooperative Marketing Federation of India (Nafed) board member and farmer leader from Nasik region CB Holkar told FE.
The department of consumer affairs data indicate that the prices of onion across the key cities have not been volatile in last three months. However, due to the delay in kharif sowing in Maharashtra and Gujarat because of late monsoon rains, the supplies could be hit in September if the kharif produce doesnt enter the market in time.
Meanwhile the wholesale price of onions at Nasik is at around R500-550 per quintal. Currently, the retail price across the four metros is in the range of R10 14 per kg.
The monsoon would be crucial to kharif production and the prices could look northward after September due to delay in arrival of kharif output, a trader from Nasik said.
At a high-level meeting in May, which was attended by Prime Minister Manmohan Singh, agriculture minister Sharad Pawar, food minister KV Thomas and commerce minister Anand Sharma, the government had decided to abolish the minimum export price (MEP) on onions for two months to boost exports. The country had exported 1.1 lakh tonne of onion in May and the government is set to take a decision on MEP next month.
India, the second-largest onion producer in the world, had shipped 1.5 million tonne (mt) of the key vegetable during 2011-12. The realisation from the onion exports during 2011-12 was at R1,714 crore. During 2010-11, India exported onions worth R2,159 crore to Sri Lanka, Bangladesh, Russia, Mauritius, China, Singapore, European and Gulf countries.
The production during 2011-12 (July-June) is estimated at 15.13 mt. Maharashtra which produces more than 40% of the total country onion production.