State-owned Oil and Natural Gas Corporation's net profit for the June quarter fell 24.5% to Rs 3,661 crore from a year ago as the company gave heavy discounts to refinery-cum-retailers to enable them to sell diesel and cooking fuel below cost.
The oil and gas producer gave Rs 5,515 crore in the first quarter to retailers in the form of discounts as against Rs 429 crore in the same quarter a year ago. ONGC's discounts account for about 84% of the total discounts given by all upstream companiesONGC, GAIL (India) and Oil India Ltd to retailers like IOC, HPCL and BPCL in the quarter.
ONGC's sales revenue dipped 8.1% to Rs 13,710 crore in the quarter even as net realisation from oil declined to $48.04 a barrel from $58.25 the same time a year ago, ONGC stated. The company had in 2009-10 fiscal paid Rs 11,554 crore fuel subsidy.
But for the subsidy payout, net profit would have been Rs 3,119 crore higher. ONGC CMD RS Sharma said that coming quarters would be better as the company would be able to realise higher price for gas from nominated blocks.
The government recently raised natural gas price from $1.79 per mmBtu to $4.2 per mmBtu. However, ONGC got additional revenues for only a month as the price was effective June 1.
Revenues because of higher gas price stood at Rs 539 crore for a month. For the full quarter, the revenues would be higher by Rs 1,500-1,600 crore and in full year, bottomline will increase by Rs 800-900 crore, he said.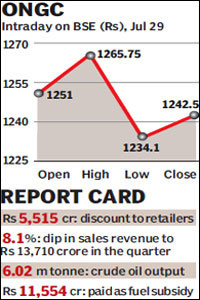 Foreign exchange fluctuations too affected the company which sells oil to fuel retailers in dollar terms. Rupee stood at Rs 48.67 to a dollar in April-June FY10 and this year it stood at Rs 45.67 to a dollar, a loss of Rs 3," ONGC director (finance) DK Saraf said.
Crude oil production remained almost unchanged at 6.02 million tonne in June quarter while natural gas was flat at 5.76 billion cubic meter.
The company has approved a new 102 mw wind power investment in Rajasthan for Rs 650 crore. Subsidiary MRPL would invest Rs 1,044 crore for a single point mooring off Mangalore coast, ONGC stated.