Despite the government's good intention to offload excess wheat stocks into the market through the Open Market Sale Scheme (OMSS) to check any rise in prices, there might not be much impact on the ground as traders are not very keen to purchase government sold grains because high base price along with multiple state taxes has made the grains costlier than the market price.
Although, officially there has not been any communication on the latest allocation under OMSS, but sources the price has been kept at cost of procurement and freight (ex-Ludhiana) for the new season as well.
Because of disparity in state taxes and high base price purchasing wheat being sold under OMSS has become uneconomical for us, a wheat trader based in Ghaziabad, Uttar Pradesh told FE.
The trader said that while FCI has fixed OMSS price of wheat for Uttar Pradesh at Rs 1,282 per quintal, the additional tax component of 4% VAT and 2.5% market tax ensures that traders need to pay an additional Rs 84 per quintal for purchasing wheat from FCI.
While market price of wheat in Uttar Pradeh is around Rs 1,300 per quintal at present the higher tax component makes wheat sold through OMSS much costlier than market rates, another private trader from Meerut said
Similarly in the key wheat producing states of Haryana and Punjab, FCI has fixed OMSS wheat price at Rs 1,240 per quintal and additional VAT of 4% makes the commodity much costlier than open market prices.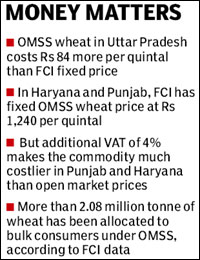 Meanwhile, the Food Corporation of India (FCI) has started the groundwork for encouraging participation of small traders purchasing wheat and rice directly from FCI godowns.
Recently, the government allowed small traders to purchase 3 to 9 tonne of wheat per day per depot from FCI godowns without going through any tendering process.
According to latest FCI data, more than 2.08 million tonne of wheat has been allocated to bulk consumers like flour mill owners under OMSS, of which nearly 1.25 million tonne have been cleared for sale. Bulk consumers have already lifted nearly 1.24 million tonne of the same.
FCI had a rice of stocks of 24.2 million tonne and wheat stocks of 33.5 million tonne, respectively which is far above strategic reserve and buffer stocks norms.
OMSS which was launched in October 2009 to sale surplus wheat stocks to bulk consumers to control rising prices.