Reserve Bank of India's latest round of bond purchases under open market operations (OMOs) is unlikely to improve the liquidity significantly, thereby, leaving scope for more such bond buyings.
RBI will buy up to R10,000 crore of bonds on February 28 through an auction, RBI had said on Monday.
More OMOs would be there and some government spendings may also happen, said NS Venkatesh, head of treasury at IDBI Bank.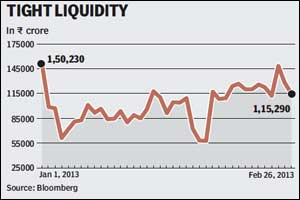 Despite series of steps to improve liquidity, banks have been the net borrowers of around R1 lakh crore from RBI's repo tender in February. On Tuesday, banks borrowed R1,15,290 crore from the tender. In February, RBI infused R10,000 crore through bond purchases under OMO. The government also canceled a R12,000-crore bond auction under the borrowing plan for 2012-13. The cut in the cash reserve ratio that was put into effect on February 9 infused R18,000 crore.
Treasurers said the liquidity deficit is over R1 lakh crore and may remain so given that loan disbursements increase in the last quarter of the financial year. The outflows towards advance taxes also add pressure. Lack of government spending has been the main reason for the tight liquidity, treasurers said.
The government is not spending because of fiscal deficit concerns. So the tight liquidity situation may not ease soon, said the treasury head of a public sector bank.
RBI governor D Subbarao had recently said the government's cash balances with the central bank had touched a record high. RBI does not disclose the government cash balances. Market participants estimate the cash balances would be around R90,000 crore.
The government spends in January and February. This time around they have not done it, said Venkatesh.
Treasurers said that at least two more bond purchase auctions could be announced in March to tide over the advance tax outflows. Tax outflows are estimated to be at least R40,000 crore.