With the government decontrolling retail prices of petrol, revising the prices of cooking fuels, and announcing its intention to gradually decontrol diesel prices on June 25, analysts say the move will positively impact risk profiles of oil marketing companies. However, given the sizeable under recoveries that still exist, an institutionalised mechanism for the timely sharing of subsidy remains the need of the hour.
According to Crisil, with the revision in prices, the public sector oil companies (PSOCs) gross under-recoveries (which result from selling petroleum products below the required selling price) will reduce by about Rs 25,000 crore for 2010-11 . The price decontrol will eliminate under-recoveries on petrol, reduce under-recoveries on diesel by about 50% (considering the present price increase), and reduce those on liquefied petroleum gas (LPG) and superior kerosene oil (SKO) by about 15%.
However, according to a Credit Suisse report, The scary thing is that even after such a seemingly bold move, FY11 loss estimates remain similar to FY10 actual levels, which the government struggled to fund. Without the diesel deregulation promised, FY12 losses will be of the same order at $75/bbl oil. Macquarie Equities Research said in a report that a partial roll-back could be expected, especially in kerosene as a customary move to appease political opposition.
Crisil said PSOCs engaged in retail sales stand to benefit from the price decontrol and revision. These steps should reduce Indian Oil Corporation (IOCLs) gross under-recoveries by about Rs 13,000 crore, and those of Bharat Petroleum Corporation (BPCL) and Hindustan Petroleum Corporation (HPCL) by about Rs 6,500 crore and Rs 5,500 crore, respectively. Upstream companies, which share the burden of under-recoveries, will also benefit because the extent of support they are required to provide will now reduce. In addition, the price competitiveness of city gas distribution players, which had been constrained by the earlier increase in the administered pricing mechanism (APM) price for gas, will now be partly restored, the rating agency said.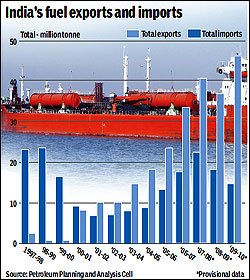 Says Pawan Agrawal, director, Crisil Ratings, The Centres decision will improve the cash flow position of PSOCs, and reduce their dependence on borrowings, though only marginally.