Upstream oil major Oil India Ltd on Tuesday posted a 32% decline in profits to Rs 501 crore in the first quarter ending June compared to a year ago, as production declined and the company compensated a part of the losses suffered by fuel retailers IOC, HPCL and BPCL, who sell fuel other than petrol below cost.
Oil India contributed Rs 730 crore by way of discounts to fuel retailers, which is sharply higher than the Rs 58 crore discounts it gave in the same quarter last fiscal. Oil India's contribution accounts for 11% of the Rs 6,600 crore that all upstream companiesOil India, ONGC and Gail Indiacontributed to meet the losses of fuel retailers in the first quarter, Oil India's director finance T K Ananth Kumar said after the company announced the quarterly results.
Oil India's turnover too declined 21% to Rs 1,523 crore as crude oil production declined to 0.798 million metric tonne or MMT compared to 0.882 MMT the same period a year ago. The net price realised also declined because of exchange rate fluctuations as the company sells crude to refiners in dollar terms. Production had declined as its Numaligarh Refinery was shut down for upgradation. It is now back to full stream from June 26 and production has been ramped up to pre-shut down level of over 9910 tonnes a day, the company stated here.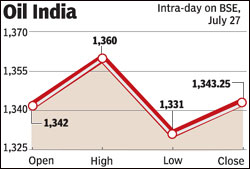 Crude oil output declined by 9.5% to 0.798 million tonne as Numaligarh Refinery extended maintenance shutdown for 100 days. Also, natural gas output was down 8.6% to 0.553 billion cubic metres, he said. We are hopeful of recouping the lost production in the remaining part of the fiscal through accelerated production, he said, adding output would have increased by 5% over 0.882 million tonne of the first quarter last year if NRL shutdown would not have extended.