In what can be described as the Congresss gift to smaller partiessome of whom are supporters of the UPAthe government has relaxed the norms for allotment of office space in Lutyenss Delhi. Regional parties now need only four MPsdown from the earlier sevento qualify for government accommodation.
The relaxation straightaway benefits UPA constituent National Conference, HD Deve Gowdas Janata Dal (Secular), which is supporting the government from outside, and Ajit Singhs Rashtriya Lok Dal. The NC and JD(S) currently have five MPs each (in both Houses taken together); the RLD has six MPs.
Another beneficiary, in a few months from now, could be Lalu Prasads Rashtriya Janata Dal. The RJDs poor showing in the last Lok Sabha elections could cost it national party status (which requires a party to get at least 4% of the vote in at least 4 states), at which point the relaxed norms for regional parties will become applicable to it. This will be convenient, because the RJDs strength in the Rajya Sabha is likely to come down from the present 8 to 5, after three of its members retire.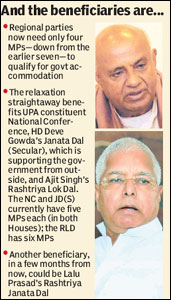 In an order dated March 15, the Directorate of Estates under the Union urban development ministry said, Only those state-level political parties that have a minimum strength of 4 members in both Houses of the Parliament could be considered for allotment of office-residence in Vitthalbhai Patel House.
An earlier order on the subject, dated May 4, 2001, had said that only those recognized state-level parties that have strength of seven members in both Houses should be made eligible for allotment of accommodation for their party office.
The latest order says that other rules in the May 2001 order would prevail. This essentially means three things.
One, that government accommodation may be provided in VP House only; two, one double-suite accommodation in VP House may be allotted to the recognized state level party. And three, the accommodation will be provided to the state-level party as long as it is recognised by the Election Commission and has adequate representation in Parliament as decided by the Cabinet Committee on Accommodation (CCA).
Sources said the move is aimed at shoring up support among smaller parties before Parliament witnesses a division of votes on at least two crucial pieces of legislation, the Womens Reservation Bill and the Nuclear Liabilities Bill.