The key to succeed with the Indian consumer in the
hyper competitive smartphone market, according to the former CEO of Apple Computer John Sculley, is to culturally connect with the young people and bundle the offerings as per their usage. Even more important, it is fashion and not technology that is driving the consumer preference. In short, phones need to be technologically superior as well as be stylish and beautiful.
Sculley, whose mobile phone venture Obi Mobiles is the latest to foray into the Indian smartphone market, has debuted two stylish devicesOctopus S520 and Wolverine S501in the mid-range segment. I have been using the two devices for the past few days and believe me, theyll grow on you. Once you get your hands on either of them, youll be impressed with their performance, build quality and great battery life. Well talk about them later, first it is pertinent to catch up with the latest in the smartphone segment.
Smartphone market in India, says IDC, has maintained its growth impetus with shipments touching year-on-year growth of 84% in Q2 2014 and a quarterly growth of 11%. The potential for growth in the smartphone market is quite high as 71% of the market continues to be on feature phones. Vendors shipped a total of 18.42 million smartphones in Q2 2014 compared to 10.02 million in the same period of 2013. The sub $200 category of the smartphone market is increasing in terms of the shipment share as the contribution from this category stood at 81% in Q2 2014. With the influx of Chinese vendors and Mozillas plans to enter the smartphone category at $50 level, the low-end segment of the smartphone market will become crucial in the coming quarters.
Back to the Obi devices. From a marketing point of view, the company appears to have deciphered the winning formula to succeed hereits mobile phones are stylish, beautiful and carry affordable price tags. They are supported by country wide network of over 95 service centres for after sales support. Can they succeed with the customer here, that too in an overcrowded market, let us find out.
Octopus S520
The Octopus S520 is the flagship smartphone from Obi Mobiles. It is available initially for purchase through Snapdeal at Rs 11,990. The device is also one of the tougher-feeling mid-range phones. It packs high-performing hardware and multitasking capabilities in a sleek metallic design powered by a 1.7 GHz Octa Core processor. The phone sports the current version of Android Kit Kat 4.4 and a 12.7 cm HD IPS touchscreen. The latter is super-tough, super scratch-resistant and doesnt bend under the pressure of your finger, giving the phone a reassuring immovable feel.
As far as other features go, the Octopus S520 comes in a sleek minimalistic design with a maximum thickness of just 8.4 mm, 1 GB RAM and 8 GB internal memory expandable to 32 GB. The dual SIM, 3G device is optimised for seamless rendering of media content while all standard smartphone functions are supported in multitasking situations by the powerful octa-core processor.
The best part of the Octopus is its speed. It is amazingly fast, and the hardware ensures that switching
between apps is swift and smooth. The call speaker has a nice warm tone and the user interface is smooth and easy to catch on.
So why is the performance good when some other mid-range phones struggle The main reason is that the Octopus has 1 GB of RAM instead of 512 MB as found in other phones in its price range. More RAM comes in very handy when moving between apps. The phone package contains a flip cover, a screen protector along with a USB charger and in-ear bud type earphones as a standard offering.
Wolverine S501
The Wolverine S501 is a decent but inexpensive Android smartphone. It is attractively priced at Rs 7,850.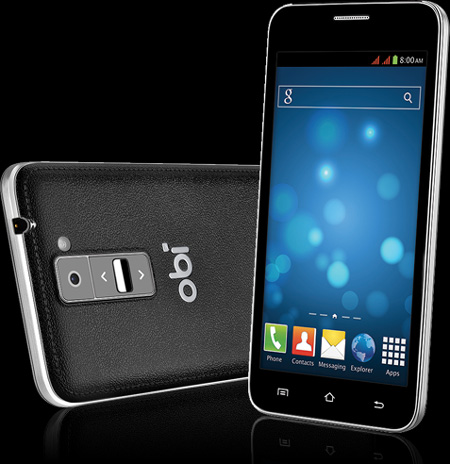 True, it might not be a superstar, but it is a bold attempt by Obi Mobiles to establish its position among the more exciting budget phone makers. Some elements of the Wolverine are better than much of the competition. The most obvious is speed. I have used similar budget offerings, but the Wolverines dual-core processor with 1 GB RAM enables an easy and simultaneous experience of all your apps, games, music, and more.
With a mega 12.7 cm flat screen, the Wolverine is designed to look as good as it feels. Its beautiful, leather-like cover protects your phone from cracks and scratches. What makes this beauty even more lethal is its ability to perform. Running on the Android Kitkat operating system, it packs a powerful punch with its dual-core processor. So enjoy movies or play games seamlessly on the big screen. It also comes with a rear key to make things convenient for you.
All in all, a good budget smartphone with a much better all-round performance.
OCTOPUS S520 Specifications
* Screen size: 145 x 75 x 8.4 mm
* Display: 12.7 cm, HD (720p) resolution touchscreen
* Processor: Octa core 1.7 GHz
* Operating system: Android Kitkat
* Camera: 8 MP (rear); 2 MP (front)
* Memory: 8 GB ROM, 1 GB RAM, microSD card slot
* Connectivity: Wi-Fi, Bluetooth, USB
* Battery: 1800 mAh
* Estimated street price: Rs 11,990
WOLVERINE S501 Specifications
* Screen size: 144 x 73 x 9.6 mm
* Display: 12.7 cm, FWVGA resolution touchscreen
* Processor: Dual core 1.2 GHz
* Operating system: Android Kitkat
* Camera: 5 MP (rear); 0.3 MP (front)
* Memory: 4 GB ROM, 1 GB RAM, microSD card slot
* Connectivity: Wi-Fi, Bluetooth, USB
* Battery: 1500 mAh
* Estimated street price: Rs 7,850