National Stock Exchange (NSE) has filed a fresh plea in the Delhi High Court alleging that the Competition Commission of India (CCI) had given it an incomplete order seeking to impose penalty on it for alleged abuse of dominant position. This is despite the court's direction to provide full and reasoned order, the exchange said.
The NSE's move, just two days' before it is supposed to submit its final response to CCI's show cause notice, is being seen as a tactic by the stock exchange to buy more time.
CCI had on Wednesday issued its detailed show cause notice to NSE seeking its response by June 2 as to why penalty should not be imposed on it for abusing its dominant position in the currency derivatives business.
Based on its reply, CCI will decide on levying a penalty, which could be up to 10% of NSE's average turnover for the last three years.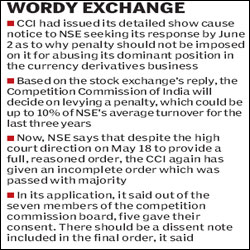 Now, NSE says that despite the high court direction on May 18 to provide a full, reasoned order, the CCI again has given an incomplete order which was passed with majority. In its application, it said that out of the seven members of the CCI board, five gave their consent while remaining the two had not yet given their say-so. There should be a dissent note included in the final order, it said.
CCI, the fair play watchdog, had issued a 140-page penalty notice detailing the grounds on which it had found NSE abusing its dominant position in the currency derivates business.
NSE had moved the court saying the ground of violation should be made clear. NSE had also contended that the notice did not give reasons as to how did CCI reach the conclusion of slapping the penalty. The high court then asked CCI to issue a detailed notice.
The commission has found that NSE had flouted norms under Section 19 (4) and others sections of the competition law. It was found that the stock exchange was not charging fees in the currency derivatives (CD) market but was using income from its other businesses to strengthen its derivatives segment.
NSE's rival exchange in currency derivatives, MCX-SX, in a representation to the CCI in November 2009 had complained that NSE had misused its dominant position in the equity, equity derivatives and the wholesale debt market segment to its benefit in the currency derivatives segment by trying to protect its turf and introducing predatory pricing.
In December, CCIs investigation wing recommended action against NSE saying that it used its dominant position and original monopoly in equity, F&O (Future and Options) and WDM (Wholesale Debt Market) markets to protect its position in the currency derivative (CD) market.