Work on underpasses to create long-term assets
The UPA government's flagship social sector programme the National Rural Employment Guarantee Scheme (NREGS) will now be able to create permanent infrastructure assets, giving the seven-year-old scheme providing livelihood to almost 5 crore families annually an altogether new direction. The rural development ministry has decided to include building railway underpasses under the ambit of NREGS. An official announcement is expected shortly.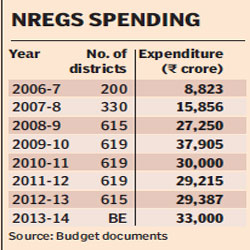 We have allowed the construction of railway underpasses in the list of permissible works as it is in synergy with achieving the twin objectives of supplementing agricultural income and providing more work, said a senior rural development ministry official.
We have expanded the ambit of the scheme because of requests by the state governments which complained of insufficient work like digging of ponds, the official added.
In fact, railway minister Pawan Kumar Bansal had said in his Budget speech on February 26 that the rural development ministry had agreed to its request that the NREGS partner in some of the railways-related activities too.
The National Rural Employment Guarantee Act, which for the first time guaranteed 100 days of manual work annually to each poor family, focused mostly on works concerning watershed development like irrigation and creation and conservation of traditional water bodies. Water conservation, irrigation and land development accounted for 83% of the work taken up under the programme in 2008-2009, 82% in 2009-19 and 74% in 2011-12. Later, work related to rural sanitation and livestock were also included under it.
In fact, the expansion of the scheme was proposed last year by a committee headed by Planning Commission member Mihir Shah. It recommended the inclusion of a large number of works relating to agriculture sector such as promotion of system of rice intensification, creation of poultry shelters and fisheries under NREGS. The committee had also stated that NREGS should be linked to asset creation rather than just digging pits.
We want to change NREGS from a digging exercise to a more result-oriented scheme creating tangible assets, Shah had said.
In the first phase, NREGS was introduced in 200 most backward districts of the country. It was expanded to 130 more districts from 2007-2008. Currently, the scheme covers 600 odd districts across the country.