With the heat over the hike in fuel prices yet to die down, the UPA government is under new pressure, this time from the aviation sector.
Civil aviation minister Praful Patel on Wednesday sought a complete rollback of the service tax imposed on domestic air travel in the Budget. Airlines, meanwhile, have categorically stated they are not in a position to absorb the burden and would pass it on to passengers. There is a possibility of base fares going up by at least Rs 350.
Budget 2010-11 had proposed that the 12% passenger transport service tax, hitherto applicable only on cargo and categories like business class and above, be expanded to include domestic and international travel in any class. According to industry estimates, this will result in an additional revenue generation of Rs 1,200-1,300 crore.
We will request a complete rollback of the service tax, Patel said in Hyderabad, at the India Aviation 2010 jointly organised by Ficci and the civil aviation ministry. Maintaining that the sector had just started showing signs of recovery and a levy of service tax on fares would deal a big blow, Patel said his ministry would take up the issue with the finance ministry.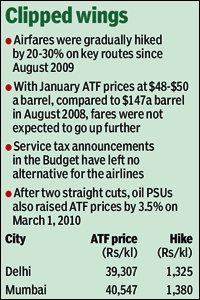 Airlines are in no position to swallow the increase in fares. We will assess the situation and take a decision next week, Kingfisher Airlines chairman Vijay Mallya said. Air India CMD Arvind Jadhav has also said the season was a lean one for air travel and his airline would see if it could absorb the increase in fares. He added AI would take a decision next week.
The impact of extension of the service tax gamut on domestic and international journeys in any class could mean a substantial outgo for all airlines. An IDFC SSKI Securities Ltd analysis pegs the figure at over Rs 700 crore for Jet Airways, which has around 16% of its revenues coming from cargo and business class, and currently its annual service tax outgo is nearly Rs 120 crore.
Airfares have already gone up in the last three months owing to rising ATF and various other factors. Further, there is the threat of user development fee, which is as high has Rs 300 for domestic travel and Rs 600 for international travel at various airports.
The Indian aviation sector has consolidated debt worth $9 billion (Rs 41,400 crore) and losses worth $2 billion (Rs 9,200 crore) in FY09 itself, according to analyst estimates. In order to improve the economics of the sector, the industry has been pushing for a rationalisation of taxes on ATF.
Domestic ATF prices are 40% higher than global prices. While the taxation on ATF has remained untouched, an increase in gamut of service tax across classes has come as a surprise at a time when increasing passenger traffic, stabilising yields over the last few months and limited capacity addition was finally putting the sector back on profitability track.
Globally as well, a total of 2.28 billion people are expected to fly in 2010, bringing total passenger numbers back in line with the peak recorded in 2007. Global aviation losses in 2010 are expected to be lower by 50% at $5.6 billion (Rs 25,760 crore).