After Suzlon Energy requested holders of its foreign currency convertible bonds (FCCBs) for an additional 45 days to repay $360 million, earlier this week, Moser Baer said it will restructure FCCBs worth $88.5 million due on June 21.
Yogesh Mathur, CFO, Moser Baer, said, In 2008-09 and 2009-10, we had bought back $61.5 million worth of bonds of a total outstanding of $150 million. As of now, therefore, we need to repay, at face value, an amount of $ 88.5 million. The bonds will, in all probability, be reissued or rolled over, investment bankers said.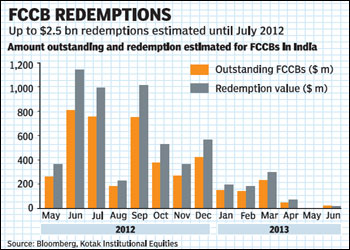 The bonds were to be converted, in two tranches of $43 million and $45.5 million, at a price of R407.64 and R363.96.The original conversion prices when the FCCBs were issued way back in 2007 were R713.90 and R617.70. Subsequently, the conversion the prices were reset in 2009.
The Moser Baer stock closed at R9.31, up 2.31%, on the Bombay Stock Exchange. The stock had touched a 52-week high of R41.70 in mid-June last year and a low of R8.90 on June 5 this year. The companys financial performance continues to be poor. In the year to March 2012, Moser Baer posted a net loss of R309.78 crore on a total revenue of R2,096.07 crore. In the previous year, the companys net loss was R400.72 crore on a total revenue of R1,872.88 crore.
FCCBs worth nearly $5.5 billion are due to redeemed this year and with stock prices having crashed over the last four to five years, there is no chance of the bonds being converted. As such, companies are being forced to redeem the bonds or refinance them through borrowings elsewhere. An estimated $2.5 billion worth of FCCBs are maturing between May and July this year, while the amount for the full year is pegged at around $5.5 billion.
In April this year, Bharat Forge successfully refinanced its $40 million outstandings, reflecting appetite for quality Indian paper. Among the FCCBs maturing in June 2012,JSW Steel, Rolta India and Strides Arcolab already refinanced their obligations earlier this year, a report by Kotak Institutional Equities points out.