Non-food credit in the fortnight to March 23, 2012 rose 16.8% year-on-year, taking outstanding credit to R45,30,326 crore, Reserve Bank of India data releases on Wednesday showed.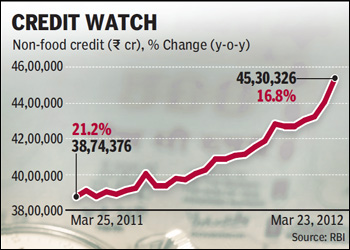 In the previous fortnight, loans to corporates and individuals had grown at 16.1% y-o-y. However, deposits have been sluggish, increasing by just 13.4% y-o-y. The outstanding deposits in the system stood at R59,03,659 crore. The credit-deposit ratio remains fairly high at above 76%.
The growth in credit is in line with outlook given by most bankers. The year to date credit growth has been 16.9%. This is little better than the levels RBI had projected of 16% for 2011-12, having pruned it from 18%.
Indeed, banks appear to have been somewhat risk averse in the light of a slowing economy and increasing non-performing assets.
Meanwhile, the acute shortage of liquidity in the last three months has compelled banks to hike short-term deposit rates. State Bank of India, Bank of India (BoI), Bank of Baroda (BoB)and Federal Bank have all hiked deposit rates for shorter maturities. For example, SBI upped deposit rates by up to100 basis point while Federal Bank on Tuesday hiked the interest rate on term deposits by 25 basis points to 10% for maturities of up to one year.
Earlier, BoI had increased rates on deposit rates of select maturities by up 75 bps while BoB was a tad more conservative; it hiked rates on short-term deposits of less than one year duration by up to 25 bps. SBI, which believed its rates were not fully aligned with those in the system, now pays a uniform 8% on retail deposits from seven days to less than a year.
Over the past three months, several banks have been compelled to offer better interest rates on retail term deposits. The banking system has been acutely short of liquidity as reflected in the large quantum borrowed by banks from the RBIs special window; on occasions the year-end rush for funds has seen banks picking up as much as R 2 lakh crore while average borrowings have stayed over R 1 lakh crore for a couple of months now. Borrowing costs in the wholesale market too have been high with Certificates of Deposits (CDs) of between three and six months maturities, rising by around 140 basis points to over 10%, on occasions nudging 11%.
However, the higher rates have yet to impact the rate of growth of deposits, which rose just 13.8% y-o-y for the fortnight ended March 9 from 14.3% y-o-y in the previous fortnight. The growth in term deposits slowed to 15.6% y-o-y while demand deposits fell by 0.2% y-o-y.
Among the reasons for this could be larger requirements of cash to meet year end commitments; realising this the RBI freed up Rs 48,000 crore of cash for banks by trimming the Cash Reserve Ratio (CRR)by 75 basis points to 4.75% on March 9, 2012