Exports of agricultural and processed food products nearly doubled in a year, thanks mainly to the freeing-up of non-basmati rice exports, but also reflecting the countrys potential as a destination for farm products.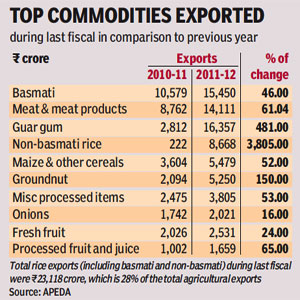 Exports of these items rose 97% to R82,480 crore during 2011-12 from R41,794 crore in the previous year, show data from Agricultural and Processed Food Products Export Development Authority (Apeda). Key export drivers include basmati and non-basmati rice, guar gum, groundnut, meat and organic products. Gulf countries, US, UK, Germany, Vietnam and Indonesia were leading export destinations for Indian products.
There has been a rise in demand for non-basmati rice from African and South Asian countries, Apeda chairman Asit Tripathy told FE.
Non-basmati rice saw the sharpest rise after curbs were lifted on rice exports last September. In 2010-11, India exported only R222 crore of non-basmati rice, which rose to R8,668 crore in 2011-12. Exports of flagship agri-product basmati rice rose 46% to R15,450 crore last fiscal, thanks mainly to demand from Gulf countries, the EU and US.
Iran and Saudi Arabia account for more than half of India's basmati rice exports. This implies cumulative rice exports were Rs 23,118 crore, which is more than 28% of all exports. Shipments of guar gum shot up 481% to Rs 16,357 crore. Other export drivers include meat products, maize, groundnut,onion, fresh fruit and processed fruits and juices.
The government's intention is to allow exports of agricultural commodities which are plentiful in the country, Tripathy said.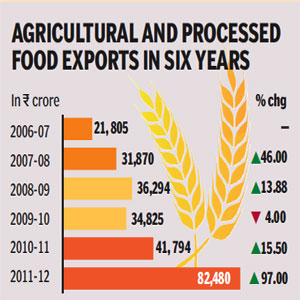 The country exported processed food products worth Rs 40,242 crore in 2010-11. Apeda has identified 20-odd clusters located across the country for maintaining healthy growth in the country's food product exports during the current fiscal as well.
These clusters include basmati rice (Haryana & Punjab), buffalo meat (western Uttar Pradesh), grape and grape wine (Nasik region, Maharashtra), pomegranate (Satara and Pune regions of Maharashtra), dehydrated onions and garlic (Gujarat), poultry or egg (Namakkal) and mango pulp (Uttar Pradesh and Maharashtra).
Although India exports agricultural products to 80 countries, India's share in the global trade of agri-processed products is only about 2 %. Only 15 countries including Saudi Arabia, UAE, UK, Bangladesh and South Africa account for more than 65% of the country's export of fruits, vegetables and other agricultural products.