Australian Prime Minister Tony Abbott today said here that the search operation for the crashed Malaysia Airlines Flight MH370 will be running for quite some time with "no time limit" as the hunt for the plane enters its 23rd day.
Abbott arrived at Perth's Royal Australian Air Force (RAAF) base Pearce this morning, even as the search continues to find the lost Malaysia Airlines flight MH370.
Speaking here Abbott said "We can keep searching for quite some time to come and we will keep searching for quite some time to come. I'm certainly not putting a time limit on it".
Appreciating the contribution of those who were involved in the search operation, Abbott said the "best brains in the world" are on the task but until any wreckage was found, authorities will have to keep relying on "guesstimates".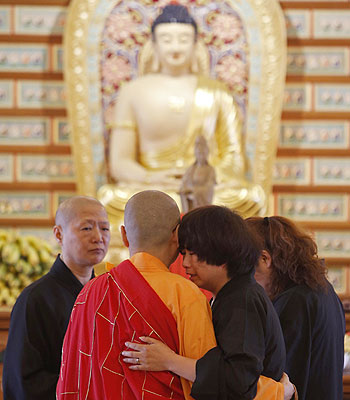 A Chinese relative of passengers onboard the missing Malaysia Airlines Flight MH370 is comforted by an abbess after prayers for their loved ones at Fo Guang Shan Buddhist temple in Petaling Jaya. (Reuters)
"All of the technological mastery that we have is being applied. So if this mystery is solvable, we will solve it," he said, adding "But I don't want to underestimate just how difficult it is".
Abbott said that it was "tremendous" to see such international cooperation.
"We have regular military cooperation with the United States, with New Zealand and with Malaysia, but to see also the cooperation with us from China, from Japan and from Korea is really heartening," he said.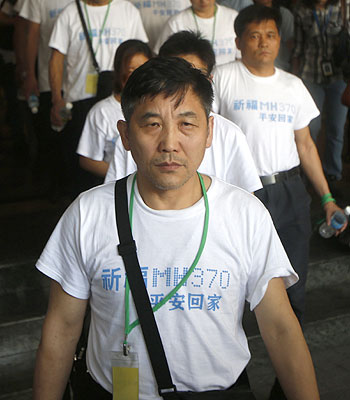 Chinese relatives of passengers onboard the missing Malaysia Airlines Flight MH370 leave their hotel in Subang for prayers at a Buddhist temple. (Reuters)
"It demonstrates that in a humanitarian cause, the nations of this region can come together to work for the betterment of humanity, can work to try to resolve this extraordinary mystery, can work to try to bring peace and closure to the families of the 239 people on board that ill-fated aircraft.
Abbott said "It's only reasonable that we should bear this cost. It's an act of international citizenship on Australia's part. At some point there might need to be a reckoning.
"There might have to be some kind of tallying, but nevertheless we are happy to be as helpful as we can to all of the countries with a stake in this, and let's not forget it's not just Malaysia, there's China obviously which had the largest number of citizens on the aircraft," he said.
Abbott, according to media reports here, said retired Air Chief Marshal Angus Houston, country's former defence force chief, will lead a new joint agency co-ordination centre (JACC) in Perth to find the debris of the stricken jetliner.
"There is no one better placed than Angus to co-ordinate and liaise given the quite significant number of countries that all have a stake in this search," he said.
Yesterday, authorities said the first debris picked up by ships combing the updated search area about 1,850 km west of Perth was not from the plane.
"It appeared to be fishing equipment and just rubbish on the (ocean's) surface," a spokesman for the Australian Maritime Safety Authority said.
Australian Navy Commodore Peter Leavy said the focus was still to find debris and confirm it was from the aircraft.
"The search area remains vast and this equipment can only be effectively employed when there is a high probability that the final location of Flight MH370 is better known," he said.
An Australian navy vessel is also due to leave from Perth with equipment able to detect signals from the black box recorder on the missing plane, media reports said.
An Orion aircraft has also identified several orange objects in the southern Indian Ocean in what is being described as "the most promising leads."
AMSA said yesterday's weather in the area was "reasonable" with reported visibility greater than 10 kilometres, and Flight Lieutenant Russell Adams says he is hopeful of finding more objects if favourable conditions continue.
"For my crew and from our perspective, this was the most visibility we had in the water of any objects ... and gave us the most promising leads," he said adding the objects will now be assessed to determine whether they are related to the lost plane.
"I must stress that we can't confirm the origin of these objects ... the details of these, in association with a GPS buoy have been passed on to our rescue coordination centre," he said.
The Beijing-bound Boeing 777-200 - carrying 239 people, including five Indians, an Indo-Canadian and 154 Chinese nationals - had vanished after taking off from Kuala Lumpur and crashed in the remote southern Indian Ocean.
Ten aircraft and eight ships have been tasked to scour the Indian Ocean, after early sightings in the new search zone drew a blank.
Possible debris sightings by Chinese, Australian and New Zealand military planes did not yield any solid clues in one the most baffling aviation mysteries, compounding the frustration of families who have been waiting for more than three weeks to get detailed and confirmed information on the 239 missing passengers onboard Flight MH370.
A Royal Australian Air Force tow vehicle manoeuvres a Korea Navy P-3C Orion aircraft on the runway at RAAF Base Pearce, north of Perth, as they participate in the search for missing Malaysian Airlines flight MH370. (Reuters)