The National Highways Authority of India (NHAI) will soon roll out a proposal to take over stalled projects where promoters are short of resources and cant complete them. The idea is to run these projects for a few years to recover the funds infused before handing them back to the promoter. The decision is based on the advice of the ministry for road transport and highways, a senior official told FE.
Under the proposal if a project comes to a halt due to the promoter not having enough funds, NHAI will obtain a no objection certificate from the lender to the project as well as the concessionaire and put in the requisite funds to complete construction. NHAI will then toll the project till it recovers its funds and, thereafter, hand it back to the concessionaire, who will operate the project for the remaining period of the concession. This way, officials say, the interests of both lenders and the concessionaire will be protected.
The rationale for the proposal is believed to have originated from NHAIs experience with the Jaipur- Gurgaon expressway to which a consortium of lenders had given approximately R1,800 crore of loans.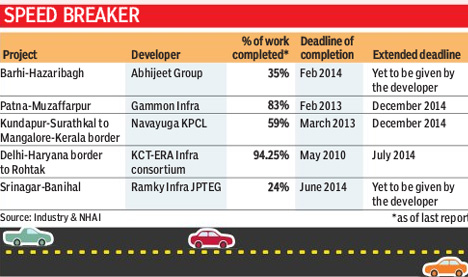 With the promoter not able to mobilise the resources to complete the construction, NHAI was in talks with it as also the banks, offering to take over the project. The banks, however, were of the view they could complete the project by lending directly to the sub-contractors working on it. The shortfall is understood to have been in the region of R500 crore. While the Jaipur-Gurgaon expressway may not be funded under the proposed scheme, NHAI will work on the model and soon present it to roads minister Nitin Gadkari.
Vinayak Chatterjee, chairman of Feedback Infra, believes the move is a good one that would benefit the developer and consumers who are suffering despite paying tolls. Chatterjee said the risk for lenders too would reduce. The move will also help the government since the road projects will be completed, he said.
Several road projects across the country are in trouble with promoters unable to infuse the necessary funds. Moreover, analysts estimate that revenue growth across NHAI-controlled projects nationally was approximately 4-5% in FY14, which adjusted for an inflation-linked toll rate hike of 5-6% implies a fall in traffic growth of 0-2%.
NHAI is hoping to award 6,000 km of roads this year worth approximately Rs 55,000 crore, of which approximately 2,300 km are likely to built via the engineering-procurement-construction mode and another 3,700 km under the public-private partnership mode.