A plan would be prepared to deal with 14-15 contracts that have been foreclosed with mutual consent.
The defence and road ministries are close to an agreement for speedy transfer of land parcels currently with the three armed forces to the National Highways Authority of India (NHAI) so that a host of large highway projects can take off. Some of these projects have been stuck for want of defence ministry clearances (for land transfer) for up to five years, taking a toll on highway construction, which is also reeling from the hit taken from the economic slowdown and low investor interest.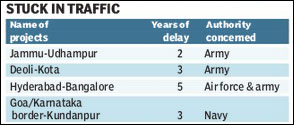 According to official sources, minister for road transport and highways Nitin Gadkari has had talks with the the defence ministry on the issue, and the latter has responded favourably, given Modis thrust on removing impediments for infrastructure projects.
Many project proposals have been pending with local army authorities while, in some cases, clearances from the navy and air force are awaited. Talks are on with defence ministry and we are likely to get these clearances soon, a senior official said.
The Jammu-Udhampur project, for instance, is pending with the local army authority. Similarly, in the case of the Deoli-Kota section, defence clearance has been delayed by almost three years.
The Hyderabad-Bangalore stretch has been delayed for five years, with both army and air force clearances pending. In the case of the Hyderabad-Bangalore stretch, a draft MoU has been drafted and the army has informed NHAI that land of equal value (as the one to be transferred to NHAI) may be soon identified in coordination with the state government for transfer to defence authorities, the official said.
The move comes in the wake of Gadkari's mandate for NHAI to prioritise completion of over two dozen identified projects. To fast-track decision-making, the minister had also agreed, in principle, to empower the NHAI board appropriately, tweak the contract conditions or have in place a new contract agreement. These steps, it is believed, would leave little scope for arbitration and legal hassles.
The official added that NHAI would soon take up the issue of pending clearances and land availability with other ministries, including those of environment and railways, in the next few days.
"The sector is witnessing slow pace of growth due to delays in clearances and it will take some time for private players to start investing again. Thus, before NHAI launches any fresh bid (for public-private partnership projects), there should be all requisite clearances in place. The minister has also endorsed this model, the official added.
A plan would be prepared to deal with 14-15 contracts that have been foreclosed with mutual consent. None of these projects could take off after being awarded due to default on the part of NHAI as well as developers. Officials said Gadkari has asked NHAI to resolve contract disputes so that equity becomes available with developers to take up new projects. This will also lighten the burden on the authority.