The government on Thursday released its foreign trade policy for five years ending March 2014, but offered little to industry reeling under one of the worst demand slowdowns in key export destinations. However, it extended indirect tax sweeteners to labour-intensive industries, sought to slash red tape and widen the reach of Indian exports. The policy will be reviewed by March 2011.
The immediate objective of this policy is to arrest the declining trend of exports and provide additional support, especially to those sectors that have been hit badly by recession in the developed world, said commerce minister Anand Sharma while releasing the policy.
Indian exports have been in negative territory for nine months. Announcing a foreign trade policy at this juncture is indeed a daunting task and we need to take cognisance of the declining demand in the developed world, Sharma added.
Finance minister Pranab Mukherjee was more candid. All of us want international economic revival. It is important for the short-term and medium-term recovery of our exportsover 64% of our exports go to the EU, US and Japan. Unless the economies revive there, it is not possible to revive our exports in a very substantive way, no matter what measures we take, he said at an interaction with Ficci members.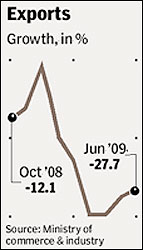 The commerce ministry also doesnt expect the immediate outlook for exports to improve and has pegged growth for 2009-10 at the 3% achieved last fiscal. But for 2010-11, it has set an ambitious $200-billion target. Its long-term aim is to double Indias share of global goods & services exports by 2020, which according to WTO was 1.5% in 2007. In the remaining three years of this policy, the country should be able to come back to a high export growth path of around 25% per annum, Sharma predicted.
By and large, the new policy is a clone of the previous one and has the same export promotion measures, but with some additional incentives. Experts feel there should have been more focus long-term solutions. The new policy is very much business as usual. The opportunity to focus on structural constraints that impede exports has been lost. I hope that major issues like infrastructure constraints and procedural clarity will be tackled in the coming months, said Icrier director & CEO Rajiv Kumar.
Incentives for labour-intensive sectors like engineering, electronics, basic chemicals & pharmaceuticals, apparel & textiles, plastics as well as leather & leather products have been continued by allowing duty-free import of capital goods required for the manufacture of export goods. This incentive under the Export Promotion Capital Goods (EPCG) scheme will be applicable until March 31.
In addition, other sectors may also import capital goods under EPCG at a concessional duty of 3%. In both cases, the period of export obligation has been extended to 12 years. The objective is to enhance the productivity of Indian exporters so that they can garner overseas market share.
Sharma also extended until December 2010 the crucial Duty Entitlement Passbook Scheme used by exporters to obtain a refund on a portion of their indirect taxes. However, as this scheme is not WTO compliant, commerce ministry officials said an alternative is being worked out.
New markets and products have been given additional incentives in the policy through various focus schemes, which now cover most of Africa, Latin America and Commonwealth of Independent States. The promotion measures seek to offset costs associated with the transport of goods to these high-growth markets, so that Indian exporters remain competitive.
The trade policy also promises to deal with procedural problems faced by exporters, which according to estimates account for 5-8% of their total costs. However, the key element for the success of these measures is the ongoing e-trade initiative to automate various processes. The department of customs is a key stakeholder in this initiative, which seeks to link ports and related government agencies like the directorate-general of foreign trade.
While releasing the policy, Sharma also affirmed Indias stand on the Doha Round of multilateral trade talks. We are in favour of establishing a rule-based, fair and equitable global multilateral trading regime, which has development as its core objective. However, it must respond to the aspirations of the millions of people of the developed world, Sharma reiterated.