People place candles during a ceremony in memory of passengers on board the crashed Malaysia Airlines Flight MH370, in Kuala Lumpur. (AP)
The search for the crashed Malaysia Airlines Flight MH370 jetliner continued today with fresh objects spotted by planes scouring a new area of the southern Indian Ocean.
A Chinese ship is scouring a new area of the Indian Ocean for "objects" spotted in the hunt for the lost Malaysia Airlines MH370, Australian officials said.
The vessel has been at the scene trying to retrieve the items since first light, according to the Australian Maritime Safety Authority (AMSA) says.
Aircraft are also travelling to the new search area, about 1,100 km north-east of the previous zone.
Also see: Malaysia Airlines MH370: 7 'treasured' secrets plane's black boxes hold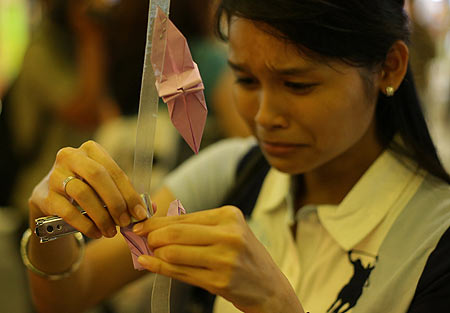 A woman places a paper crane as a symbol for hope and healing during a ceremony in memory of passengers on board the missing Malaysia Airlines Flight MH 370 in Kuala Lumpur. (AP)
Five search planes spotted multiple objects of various colours yesterday.
A Royal New Zealand Air Force Orion first spotted "a number of objects white or light in colour and a fishing buoy", AMSA said.
An Australian plane then went to relocate the items and spotted "two blue/grey rectangular objects", and three other planes reported similar sightings. But it is not clear whether these are from Malaysia Airlines MH370 plane.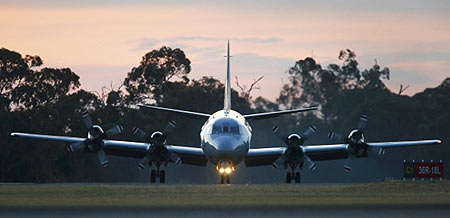 A Royal New Zealand Air Force P-3K2 Orion aircraft lands at the RAAF Base Pearce near Perth. (Reuters)
Investigators will not know whether the objects are connected to the missing plane until they have been recovered by ships.
The Chinese patrol ship Haixun 01 was deployed to locate the objects early today, and eight aircraft will also be taking part in the day's operation, AMSA said in its latest statement.
Bad weather has hampered search efforts in recent days.
Today's conditions are expected to be favourable initially but to deteriorate later in the day, the BBC reported.
The Australian and Malaysian governments said yesterday the search area for Malaysia Airlines plane had been changed following further analysis of radar data that showed the plane had been travelling faster, thus burning more fuel.
This would reduce the possible distance the aircraft travelled south into the Indian Ocean, officials said.
Search efforts had until yesterday morning focused on an area some 2,500 km south-west of the Australian city of Perth.
The Beijing-bound Boeing 777-200 airliner - carrying 239 people, including five Indians, an Indo-Canadian and 154 Chinese nationals - vanished soon after taking off from Kuala Lumpur on March 8 and crashed in the remote southern Indian Ocean.
Live updates: Fresh multiple objects seen in new search area for Malaysia Airlines Flight MH 370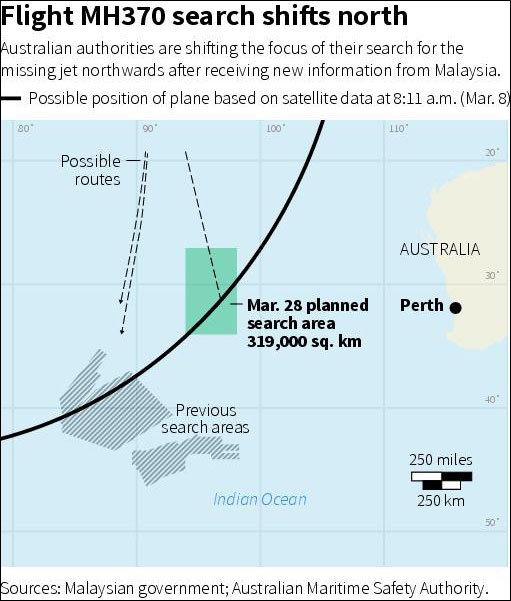 Also see: Sunny Leone: Adult entertainment industry gave me fun and money