Pitching for self-reliance in defence production and aiming to cut expensive import of equipment, the Narendra Modi government is set to do away with the requirement of industrial licensing for manufacture of all defence products except 16 items in a negative list.
This would be another milestone in the development of the domestic arms and related equipment industry where the private sector was allowed entry through a licensing policy in May 2001 by the Atal Bihari Vajpayee government.
Items that would now be de-licensed as per a note prepared by the defence ministry and currently in inter-ministerial circulation include equipment used in rescue operations, night vision and surveillance equipment, solutions for personal armour, vehicle armour, parts of equipment, castings, forgings and specified test equipment. Also, dual-use items having military as well as civilian applications other than those included in the negative list will not require industrial licensing.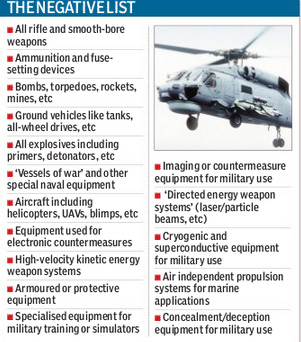 Sources said the proposed de-licensing, coming close on the heels of a recent order making e-procurement mandatory for defence purchases above R10 lakh, is expected to curb corruption and benefit private-sector manufacturers in a sector where state-run firms still have a dominant presence. The latest move, they added, would make it easier for the private sector to set up business in defence production as securing a licence in the strategically important sector is considered a major hurdle.
The move comes along with the Modi government?s plan to allow 100% foreign direct investment in the defence production sector, a significant step further from the current regime where FDI is generally limited at 26%. Effective April 2014, FDI above 26% can be allowed with the approval of the Cabinet Committee on Security if modern and state-of-the-art technology can be accessed by the Indian entity, but this policy announced during the last leg of the UPA government hasn?t yet been invoked.
India?s defence hardware requirement is heavily dependent on imports, which accounts for about 70% of its total procurement, with the remaining sourced primarily from domestic state-owned enterprises.
Private firms like Tata Advanced Systems, Larsen & Toubro, Kirloskar Brothers, Mahindra Defence Systems and Ashok Leyland account for about 9% of the direct procurement by the government.
India?s defence budget has been rising relentlessly in the past decade even as the modernisation needs have not been fully met. This has partly been due to the incapacity of the indigenous sector and inefficiency in cutting procurement costs.
The government is estimated to spend Rs 2.24 lakh crore in 2014-15 in the defence sector, accounting for about 13% of the total central government budget.
Removing the licensing barrier is likely to usher in more investments into the sector. Items in the negative list, which would continue to require an industrial licence, are in the nature of sophisticated weapons, aircraft, missiles, warships, bombs and cryogenic equipment.
?This would greatly reduce the time taken for setting up a business in this sector and send a positive signal that reforms are being introduced. At present, the process of getting an industrial licence is tough and time consuming,? said Dhiraj Mathur, national leader, aerospace and defence practice, PwC India.
More policy measures are likely in the forthcoming announcement of the foreign trade policy for 2014-19 for helping domestic defence producers tap the world market, sources said.
According to the Confederation of Indian Industry, foreign investment of only $4.8 million has so far come to India under the 26% FDI cap. ?SMEs are going to the biggest beneficiaries of the liberal FDI policy. Huge supply chains complying with world-class standards will come up around the manufacturing facilities,? it stated.
?We want the defence sector to follow the growth path the auto sector had experienced. The auto sector has matured since the mid-1990s from assembling parts and subsequently forming joint ventures with MNCs to increasing local manufacturing and indigenisation,? an official said.
In defence, the strategy is to increase manufacturing of equipment used in peacetime rather than offensive equipment used in warfare so that India?s image as a nation that supports peace remains intact, sources said. Latin American countries including Colombia recently conveyed to India that items such as helicopters made in India are far more cost-efficient than those from Western producers.
Carving out a highly specified and small negative list that require licensing also addresses the issue of ambiguity in the current definition of defence products under the Indian Trade Classification (Homogeneous Series), which restricted private participation in many dual-use products.
However, some private defence manufacturers are a bit apprehensive about 100% FDI in defence production. They argue that unless technology transfer is ensured and reciprocal access is available to them in foreign markets, the policy might not be in the national interest.
(With inputs from Huma Siddiqui and Arun S)