There's been a lot of excitement and jubilation at the Malad office of television network company Multi Screen Media in Mumbai recently. The network is on a roll again. Its flagship channel Sony Entertainment Television has held on to the second place in the GEC roster for three weeks now. Early this month the network launched its music channel Sony Mix, even as it is gearing up to launch a sports channel. Amidst all this, there have been media reports that the network could snap up Ramoji Rao-owned Eenadu TV's (ETV) bouquet of 11 regional channels.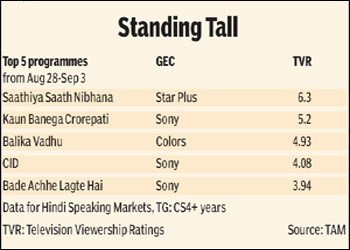 It's taken MSM a long time to find its groove. When Sony was launched by MSM, earlier known as SET India, in 1995, three years after rivals Star Plus and Zee TV had made their grand entry in the India broadcast space, the channel had been positioned as a befitting competitor to these television goliaths. The channel was quick to launch some innovative reality shows such as Boogie Woogie, Bigg Boss, Fear Factor, Indian Idol and fiction shows such as CID, Aahat, Jassi Jaisi Koi Nahin and others, and reached the break-even point within two years of its launch. However, Sony failed to cash in on the success of these shows and eventually lost crowd-pullers such as Bigg Boss and Fear Factor to rival channels. As a result, when Star India that owns Star Plus and Zee Entertainment Enterprises that owns Zee TV, started to consolidate their positions in the regional space and other genres as well, MSM was still trying to work out a successful programming strategy for Sony. Its flagship channel Sony was virtually on the verge of being written off after several failed attempts to climb up the rankings.
Previous to 2008-2009 we had tried many things and every quarter we were trying something new. We were trying a new audience, we were trying a new age group, trying different messaging, copied something that worked somewhere else. It was a mess, admits Manjit Singh, CEO, MSM.
Though the network had been looking to foray into the regional space in the footsteps of rivals Star India and Zee Entertainment Enterprises for some time now, it has been a late entrant picking up Sony Aath (earlier called Channel 8 Talkies), a Bengali language movie channel, from Ashok Surana, founder of Channel Eight group, only in 2009. Sony Aath mainly shows old Bengali movies and has around 1000 titles, telefilms, movie-related shows and other programmes. We bought the channel, which was the only Bengali movie channel and we have been adding some telefilms. Actually the crime telefilms have some of the highest ratings on the channel. The channel is doing quite well but viewership of its movies has been impacted because of the number of GECs that have been launched as all of them are relying on movies for ratings. That has caused the movie genre to get diluted in Bengal, says Manjit Singh.
However, he believes that a shakeout in the Bengali GEC space is imminent and the GEC channels would have to focus on fiction shows for survival. We will be the only movie channel, thats our core business in the market and thats the positioning we plan to take forward on Sony Aat. So we are not changing anything on Aat.
If the deal with ETV's goes through, it will be the biggest acquisition deal in the regional space. The deal size is rumoured to be upwards of Rs 2,500 crore. Says NP Singh, COO, MSM says, This is just a mere media conjecture because we have been saying that we are looking to strengthen our presence in the regional space both through acquisitions and by launching our own channels.
While top officials at MSM refuse to comment on the media speculation around ETV, they have made it clear that entering the regional space is the single biggest agenda of the network at the moment. Says Manjit Singh, We believe that the regional channel space is the fastest growing space. We want to be in this space. We are looking at a variety of markets.
Clearly the top markets that any broadcast network would like to enter are the southern markets, Maharashtra and Bhojpuri. We are already in Bengal. So by summer of next year we will certainly have established in another one or two regional markets, adds Manjit Singh.
Besides this focus on the regional space, MSM is planning to launch a sports channel. We keenly want to launch a sports channel, however, we will not join a mad chase, he adds.
Adds NP Singh, We have got the license from the government. We have Indian Premier League which is a premier sports property and we are looking for some more premium properties. Once we have aggregated enough content we will come out with a sports channel.
But before foraying into new territory, the network had to first set its house in order. In 2008, MSM conducted a market research in 2008 and adopted a new strategy for its flagship channel. We said we are going to focus on women during the weekdays and we wanted to give these women an ability to live their dreams through our shows. Sony introduced a new packaging, a new signature tune and a new tagline Badal Rahe Hain Hum.
On the back of this, the channel revamped its entire programming line and launched a slew of shows including Rani Padmini, Palampur Express, Bhaskar Bharti, Ladies Special and others. However, except for the reality show Dus Ka Dum with actor Salman Khan as its host, none of the fiction shows could hold their own and were soon pulled off air. Towards the end of 2009, in a desperate attempt to get back in the reckoning the channel announced its tie-up with Yashraj Films for television content. Under this tie-up, the channel launched a non-fiction show, Lift Kara De, hosted by Karan Johar and fiction shows Mahi Way, Rishta.com, Seven and Powder. However, even these shows failed to get substantial ratings and were taken off air.
It was the reality shows such as Dus ka Dum, Jhalak Dikhla Ja, Indian Idol and Comedy Circus that helped Sony to keep its head above water then. To strengthen its portfolio of reality shows and to create a launch pad for its fiction shows, Sony brought back game show Kaun Banega Crorepati hosted by superstar Amitabh Bachchan in 2010.
The show was earlier with Star Plus and was one of the primary factors that helped the channel to consolidate its position as the numero uno channel. Sony hoped for a similar turn of events. And this year finally on the back of KBC, and two other fiction shows Saas Bina Sasural and Bade Achche Lagte Hain, the channel has been steadily climbing up the GEC roster. According to data released by television audience measurement firm TAM Media Research, on the week starting August14, Sony ousted Colors, the GEC from the Viacom 18 stable.
So why did the new shows not work in 2008-2009 and what caught the fancy of the audiences now A senior official from MSM who did not want to be named said, The execution wasnt there, the shows were miscast, the execution did not live up to the concept. Now you look at Bade Achche Lagte Hain and you look at the detailing, look at the authenticity, the whole thing is a complete package. You need to deliver a whole package. We did not deliver adequately on the execution with our earlier shows.
Says Manjit Singh, We had a number of reality shows but at the end of the day these tent poles are usually used to build up the fiction shows. So can we say that launching KBC was a turning point for us No, the change will be there if the fictions shows start working from 7 pm to 11 pm. Reality shows are very important for what they are but using those well will change the fortune of the channel.
With its programming strategy for Sony working, for the first time MSM is trying to position itself as a strong broadcast network rather than a network that's led by a single channel. To add strength to this ambition, the network launched a music channel on September 1, called Sony Mix. When we went and spoke to a number of audiences in the music genre we figured that the other players in the market have moved a little away from the music space and they are into a lot of reality shows which are mainly focused on the youth. And thats why we decided to come up with a proposition, a pure Bollywood Hindi music channel, which is completely clutter free, says NP Singh. MSM expects the channel to break even in the next two years.
While MSM has launched Sony Mix as a pay channel, it plans to start selling on-air inventory in another 3-4 weeks. In the current market scenario it does not make sense to launch a free-to-air channel. We have a very strong bouquet of channels that we distribute under One Alliance, our joint venture with Discovery. All of them are pay channels and we strongly believe that the strength of the bouquet will establish this as a pay channel, says NP Singh.
The network has realised that it is important to exhibit an united front in terms of brand integration. Therefore, from September the name Sony has been added to all the logos of the existing as well as the new channels. Explains Manjit Singh, We want to establish that we are a network and not individual channels. Many people have not realized that Sab TV is no longer a Adhikari Brothers channel but is a part of the Sony family. So we want to create a clear brand both for consumers and advertisers.
Media planners say that MSM has never done any package deal and has always sold its channels individually. The only exception was in 2007 when it held the rights to the International Cricket Council World Cup, but that backfired when the Indian team made an early exit.
That is the only time when MSM sold package deals across its network. In fact, some advertisers such as LG Electronics advertised free for nearly one year on various MSM channels because there was so much inventory backlog, says a senior media planner who did not want to be named.
Manjit Singh says, We felt that the time is right because today we have five top channels Sony, Set Max, Sony Pix, SAB TV, Sony Aat and now Sony Mix). For instance, we did a roadblock across our channels for Hero MotoCorp. We are now number two and we need to establish that for both our viewers and advertisers as well as for the distribution side of our business.
However, not many agree that this will make any difference. Says Anwesh Bose, media head North and East, Mudra Max, I feel this a short step to something bigger that the network is planning. I also feel an integration was not required because both audiences and advertisers are aware of the channels. So I think is a cosmetic change and will not effect anything at all.
The average operating advertising rate of Sony is still far behind Star Plus and Zee TV. While the average operating advertising rate for a 10-second slot of Star Plus varies between Rs25,000 and Rs35,000, for Zee TV it is around Rs 20,000. For Sony, the rate varies from Rs 15,000 to Rs 16,000. While the channel is dependent on reality shows to bring in the advertiser money, media planners believe that the format has been over-exploited to retain any novelty.
Therefore, Sony will have to bounce back with a clearer strategy and plan for life beyond KBC. For now, fiction shows such as Bade Achche Lagte Hain seem to be ruling the roost and the average rate of a 10-second slot on the show costs between Rs 75,000 and Rs 95,000.
If the ETV deal goes through it will do good to the network. ETV is a cash cow and the promoters have not made any investments. MSM may bring some vibrancy into the ETV bouquet and it will be a good thing, says Bose.
The network is also planning to go high-definition in the next six months. We will start with Sony, Max, PIX and then SAB, says Manjit Singh. With MSM trying out so many new things at the same time, it may finally be curving out a new niche for itself.