NDTV Imagine, the Hindi general entertainment channel (GEC) of NDTV Group, is keen to improve its position in the GEC space with Turner Asia Pacific Ventures acquiring a 92% stake in it. Analysts say the chaneel will be bennefited in areas like content, distribution and marketing.
Imagine has seen ups and downs since its launch in January 2008 with audiences not always being loyal to it. Banking on its launch showsRamayan, Nachle Ve with Saroj Khan, Say Shaava Shaava, Dhram Veer and Jasuben Jayantilaal Joshi ki Joint Family, the channel, in its very first week, debuted with a gross rating point (GRP) of 55, according to television audience measurement (TAM) data. However, according to the recent TAM data, in terms of the gross rating points (GRPs), in the week 51 (Dec 13-19), NDTV Imagine is in the fifth position with 90 GRPs. Colors tops the list with 303 GRPs, followed by Star Plus (280), Zee TV (271) and Sony (179).
A media buyer said, The deal with Turner will definitely prove to be a good move for NDTV, as the channel will be able to come up with new content, while Turner is expected to concentrate on distribution and marketing. This will, in turn, help Turner to have a stronghold in the GEC space, after the failure of Real, a venture between Turner and Alva Brothers, in the GEC space.
Nikhil Madhok, vice-presidentmarketing and communicationsaid, Last year was not a good one for us in terms of soap operas and reality shows. A few programs like Ramayan and Nachle Ve with Saroj Khan showed good response.
While the channel experienced success in only a few shows, it realised that reality shows are gaining huge popularity among audiences. The channel, in the second half of 2008, launched shows like Dhoom Macha Le, Junoon Kuch Kar Dhikhane Ka, Oye! Its Friday and Raju Haazir Ho. Of these Oye! Its Friday was able to garner television rating points of more than 5.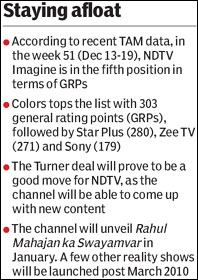 Hoping to move up in the GEC space, the channel has launched a mix of various reality shows like Rakhi ka Swayamvar, Pati Patni Aur Woh and Raaz Pichhle Janam Kaa this year. According to media buyers, Rakhi ka Swayamvar and Raaz were successful.
Nikhil Rangnekar, executive director, Starcom India- west, said: Before the launch of Rakhi, NDTV had a GRP of 50. It later jumped to 150 at the time of Rakhis show. With the show being the most successful one for the channel, Imagine, is back on track with its previous TVR of 80. This simply shows that the channel needs to produce similar content.
Imagines Modhak agrees. Says he, This year, we managed to create a space in the minds of audience by coming up with better and innovative contents. Rakhi Ka Swayamvar helped us to acquire a better position in the reality TV space. Our gross rating points (GRPs) for all days last year were around 70, which has jump to 120 this year. The show gave us the highest TRPs ever since our launch in January 2008. Since the last six months out advertisement revenues have also shown a hike of 50% as compared to 2008. This motivates us to to come up with more such kinds of reality shows.
The channel is said to launch Rahul Mahajan Ka Swayamvar in January next year, along with a few other reality shows, which will be launched post March 2010.
According to the aMap data, Rakhi Ka Swayamvar helped the channel garner an average opening TRP of 4.1. Imagines recent Raaz Pichhle Janam Kaa grossed the TVR of 3.5. This number is slightly higher than the TVR for the launch episode of Sach Ka Samna (3.4) on Star Plus in July.