On a day the benchmark indices ended flat and certain mid-cap and small-cap companies crashed, shares of non-banking financial companies (NBFCs) surged after the country's central bank released final guidelines on new bank licenses that would allow corporate entities and NBFCs to start banking operations.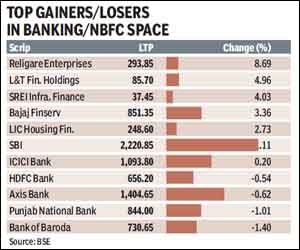 Religare Enterprises posted the biggest single-day gain since July 2012. On the BSE, the scrip surged 8.7% on Monday with a combined volume of 2.37 lakh shares on the BSE and the NSE. This was up 4,859% compared with the combined average daily volume of 4,877 shares during the last 10 days and up 805% compared with the combined average daily volume of 29,408 shares during the last three months, Bloomberg data show.
Other major gainers in the NBFC space included L&T Finance Holdings (up 5%), Srei Infrastructure Finance (up 4%), Bajaj Finserv (up 3.7%), and LIC Housing Finance (up 2.7%) with a significant spurt in trading volumes.
On Friday, the Reserve Bank of India (RBI) released final guidelines for issuing new bank licenses that would boost credit growth, especially in rural areas, and revive economic growth.
Analysts said investors placed positive bets on companies that are most likely to get banking licences . Within our coverage arena, almost all NBFCs may qualify for new bank licence, stated a Bank of America Merrill Lynch report, adding that housing finance companies like HDFC and LIC are also likely to qualify. The report also stated that competition would intensify as only 4-5 entities are would get a licence.
As per the final guidelines, companies with 10-year track record and sound credentials can apply by July 1. Foreign ownership in the banking corporation would be capped at 49% for the initial five years and the lenders would be required to set-up 25% of their branches in villages with population less than 10,000.
Analysts say entrance of new entities would benefit the sector and boost credit growth.
Vikram Dhawan, director of the UK-based advisory, broking and wealth management company Equentis Capital, said the new guidelines would boost the sluggish financial sector in terms of job creation and flow of credit, especially to the retail space. "We may see further innovations and use of advanced technology in banking space.
While NBFCs gained, shares of existing banking companies, especially public-sector banks, ended on the losing side on Monday on concerns of losing market share. Analysts fear PSU banks could take a hit on staff poaching and margins due to stiffening competition.
Analysts said the banking industry is already facing huge shortage of qualified and trained professionals, and the new entities will look to steal employees from rival banks. State-owned banks, such as Punjab National Bank, ended down 1%, whereas Bank of Baroda lost 1.4%. Even some of the big names in the private banking space, such as Axis Bank and HDFC Bank, lost 0.6% and 0.5%, respectively.