Stocks of PSU banks, capital goods and infrastructure may show significant upside if Narendra Modi-led BJP comes to power.
If the Bharatiya Janata Party (BJP), led by its PM candidate Narendra Modi, comes to power at the Centre after the Lok Sabha elections, it will be taken as a signal for stability in the Indian economy and stock markets will take it very positively and a significant upside in the markets could be seen in the bourses which will take the indices to a completely new higher levels.
The levels may be as high as levels of 7,300-7,800 gradually in NSE Nifty.
NSE Nifty: Check Live Stocks
The cyclical stocks will be the one which will mainly spurt considering they have a lot of upside potential as they are trading at a value. Sectors like PSU banks, capital goods and infrastructure will be the main sectors which can show significant upside in the coming future.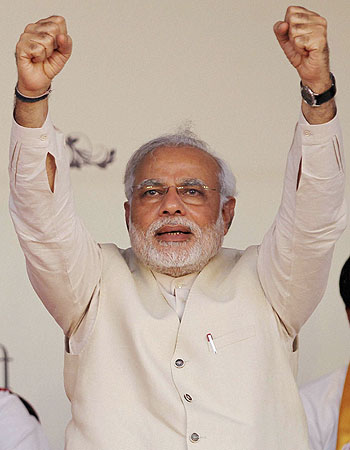 Being stock specific Sail,
Bharat Heavy Electricals Ltd (BHEL)
, PNB,
Reliance Industries (RIL)
, REC are the few stocks where investor can invest their money for good returns.
- By Vivek Gupta, Director Research, CapitalVia Global Research Limited
Also read: Narendra Modi-led BJP's manifesto to focus on new jobs, 100 new 'smart' cities