Insurers remain bullish on PSUs and expect further upside in these stocks. (PTI)
Life Insurance Corporation of India (LIC) is seeing profits of over Rs 1,000 crore in its FY13 and FY14 investments in governments stake sale as PSU stocks have rallied up to 396% since Narendra Modi was named BJPs PM candidate on September 13, 2013.
Before the start of the Narendra Modi rally, LICs disinvestment portfolio was showing losses of R681 crore. LIC has contributed over R4,000 crore in eight offers for sale (OFS) launched in FY13 and FY14. Till September 12, all these companies were giving negative returns.
But during the Narendra Modi rally, these scrips rallied 10-100%. LICs total investments in these companies are now showing mark-to-market (MTM) gains of 23%, from MTM losses of 15.31% before the rally. Rashtriya Chemical Fertilizers (101.29%), Nalco (63.25%), NMDC Ltd (44.93%), SAIL (99.70%), NTPC (10.96%) and NMDC (44.93%) have been major gainers during the rally.
Shares of NTPC, MMTC, NMDC, Nalco, SAIL, Rashtriya Chemical Fertilizers and Hindustan Copper, which were trading 4-57% below the floor price of their OFS till September 12, are now trading 5-56% above the floor price.
Insurers remain bullish on PSUs and expect further upside in these stocks. We feel with the new government, we are going to see several reforms. The PSUs are going to see value unlocking, said Nirakar Pradhan, chief investment officer, Future Generali India Life Insurance. The BSE PSU Index has gained more than 51% during the rally.
Experts believe the new government is likely to launch further stake sales. NDA government gave a fillip to the privatisation process with the first strategic sale. Also, it turned around many PSUs with their combined turnover increasing by 48%, net profits by 19%, contribution to exchequer 30% and dividend by 67%, Motilal Oswal Financial Securities said in a report.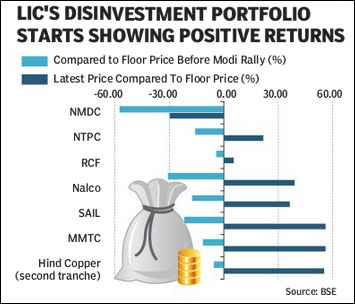 As per reports, the finance ninistry has asked the department of disinvestment to complete the groundwork for stake sales in state-owned companies soon after the Budget to take advantage of the bull phase in the stock market.