The small wonder is going to get bigger engines. Tata Nano, the worlds cheapest car which comes with a 600-cc petrol engine, is set to roll out in a diesel avatar, apart from new petrol variants. The new engines will have capacities of 1,000 cc and above.
Tata Motors has started work on the two engine variants, though no time line or tentative prices have been drawn up so far, industry sources said. They said this is part of Tata Motors strategy to leverage the Nano brand across segments. The move ties in with the strategy to redefine its focus on the car segment. While Tata Motors has a strong brand recall in the CV segment, it has not been able to replicate the same in passenger cars.
Currently, the Nano comes with a 600-cc engine. With a 1-litre engine, the car would undergo a brand makeover, an executive familiar with the plan said, adding that the Nano, as a product, would evolve gradually over the years. Nano has become a powerful brand. Since Tata Motors is clear on more penetration into the car market, the Nano brand will be the way forward, he said.
A Tata Motors spokesperson said: Tata Motors has said that it is developing a two-cylinder diesel engine for the Tata Nano. We will give ourselves the time required to develop and refine the engine to our satisfaction. Therefore, it is premature to speak on the detailstime frame or pricing.
Tatas entered the car market only in 2001 with the Indica. With its alliance with Jaguar-Land Rover, the company wants to increase its presence. Nano has strong brand recall and for the company to leverage its entry into other segments in small cars, this is the best way forward, said Vaishali Jajoo, auto analyst with Angel Broking.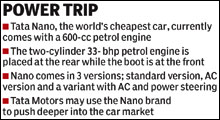 Last month, at a Society of Indian Automobile Manufacturers conference, Carl-Peter Forster, CEO & MD, Tata Motors, had said the company would look at new segmentation in the passenger car market but refused to share any details.
Tata Motors opened bookings for the Nano in March 2009. So far, the company has delivered over 54,000 Nanos to its customers. Buoyed by the success of the Nano, Tata Motors had, in June this year, overtaken Hyundai Motors to become the second-largest passenger carmaker in the country.