Grappling with bad debt in excess of R1,800 crore, the National Agricultural Cooperative Marketing Federation of India (Nafed) has submitted two proposals to the agriculture ministry for restructuring its loans.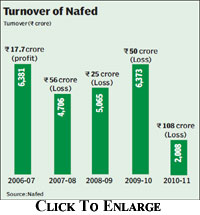 The proposals are crucial to the survival of the federation, which plays a critical role in procurement of agricultural commodities, such as cotton, mustard, onion, etc, on the behalf of the government when prices fall below the Minimum Support Price (MSP).
Under the reworked proposals submitted to the ministry, Nafed has asked for one-time settlement of dues to banks by paying 60% of the outstanding after getting the required funding from the government; alternatively, the federation seeks to pay 40% of its dues up front and the remaining amount over the next 10 years on lower interest rates.
We have submitted our financial restructuring plans to the agriculture ministry, which would forward it to the finance ministry shortly, Nafed MD Rajeev Gupta told FE.
Nafeds total bad debt, including the interest burden, has touched R1,832 crore. Short of cash, the premier agri-marketing agency has discontinued paying interest on its debt. In fact, the federations annual interest liability has bene more than its operating profit during last many years.
In 2006, Nafed became a bank guarantor for 29 private companies of more than R3,900 crore for undertaking exports in agricultural and non-agricultural items like iron ore, dry fruits, etc. The private parities took the loan without providing any securities.
Set up in 1958 under the Multi-State Cooperative Societies Act, the federation has managed to recover R2,900 crore from defaulting partners so far. It has also initiated criminal proceedings against the defaulters.
Nafed has been a key player in the market intervention programme by procuring pulses, oilseeds, copra and cotton on behalf of the government. Since most commodity prices have been ruling above MSP, Nafed has stayed off the market for a year.
Gupta said unless the government approves the financial restructuring plan, it would be difficult to carry out operations. At present, Nafed is procuring copra in Kerala.
Last year, the Karnataka Lokayukta, in its report on illegal mining, had said that while Nafed had claimed exports of 3.18 lakh tonne of iron ore during 2004-05 & 2005-06, as per the agri-cooperative submission, only 2.02 lakh tonne was exported, leaving a gap of 1.15 lakh tonne, claimed to be supplied by one of the defaulting companies, Swarup Group. But no details of the group are forthcoming, the Lokayukta report said. While calling for action against those involved in the illegal mining, the Lokayukta has sought action against Nafed under the relevant law for export of illegal iron ore.