Extending previous day losses, shares of entities providing goods & services to railways witnessed sharp correction on Tuesday as the railway Budget had no major expansion announcements for capital goods companies.
Kolkata-based Stone India, which is a multi-product engineering company, plunged 16.2% to close at R19.90. Similarly, Kernex Microsys, a mid-size IT and software services company, dropped 15.1% to end at R44.30.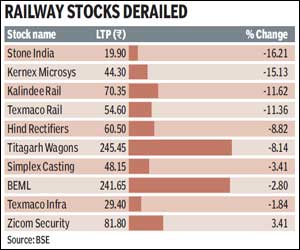 Analysts stated that the rail Budget announced few capital expenditure initiatives due to low surplus and constraints in the broader Budget failed to cheer the market, with the railway minister Pawan Kumar Bansal attempting to balance growth and the fiscal discipline.
No passenger fare hike, a nominal hike in freight rates and low projections of freight and passengers earnings growth (4-5%) also disappointed the Street. Analysts also expressed concerns about the 5% hike in freight fare transportation costs for bulk goods such as coal, cement, mineral oils, food grains, etc, of putting upward pressure to the headline inflation, which in turn would refrain the Reserve Bank of India (RBI) from reducing interest rates.
The Railway Budget has turned out to be largely a non-event... there were no fireworks. While linking freight to fuel costs is the right move, subsidised passenger fares account for bulk of rail losses and until that is addressed, the financial position of railways is unlikely to turn around quickly, and investment in the sector will languish, stated economists Sonal Varma and Aman Mohunta, Nomura Financial and Securities.
Other losers included Kalindee Rail Niram (-11.6%), Texmaco Rail (-11.4%), Hind Rectifiers (-8.8%), Titagarh Wagons (-8.1%), Simplex Casting (-3.4%), BEML (-2.8%), and Texmaco Infra (-1.84%), among others.
Weak market sentiment due to a broad-based selling, coupled with weakness in global markets, further deepened losses in railways-related stocks. Also, heavy selling in mid-cap and small-cap categories on concerns of corporate governance and poor financial performance also led to selling in companies catering to the railway sector as most of them fall in these stock segments.